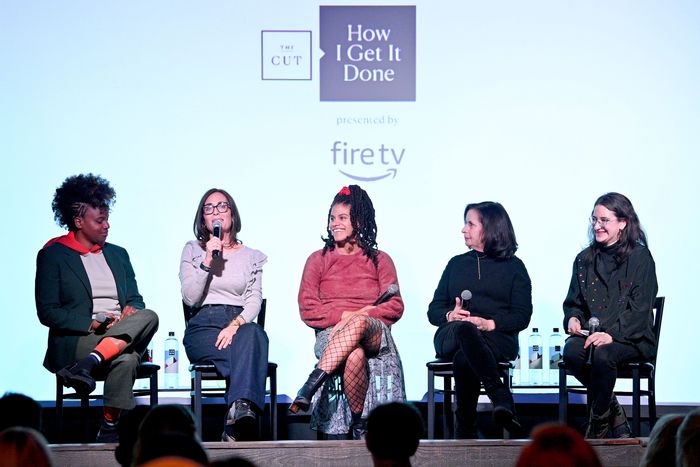 Photo: Dia Dipasupil/Getty Images for New York Magazine
Last Friday, the Cut hosted a live "How I Get It Done" panel at the Sundance Film Festival, sponsored by Fire TV. At the O.P. Rockwell, the Cut's senior editor Kerensa Cardenas spoke with four trailblazing women working in television and film: Sarah Aubrey, the head of original programming at HBO Max; actor Zazie Beetz; Amy Entelis, CNN's worldwide executive VP of talent and content development; and writer and director Dee Rees. She asked how they get through their email in-boxes, deal with burnout, what advice they would give their younger selves, and more.
Read each woman's standout quote from the panel below.
Sarah Aubrey, Head of Original Programming, HBO Max: "I believe strongly that people do not do their best work playing tight. I think it's really important to create space. I feel like it's one of my jobs as a boss to protect my team that is on the front lines with creators, to insulate them from a lot of the other business stuff that's going on."
About Aubrey: She was named head of original programming for the streaming service HBO Max last year. Prior to that, she was responsible for overseeing development and production of original limited series at TNT and produced projects like Friday Night Lights, Battleship, and the HBO series The Leftovers.
Zazie Beetz, Actor: "If I'm off seeing family somewhere in the middle of nowhere, I'm there. I stay there in my headspace, physically, emotionally, and I'm not 'work person.' I'm still trying to figure out that balance, but it's hard in any job."
About Beetz: Best known for her role in Atlanta, for which she was nominated for a Primetime Emmy Award for Outstanding Supporting Actress in a Comedy Series, Beetz has also appeared in Deadpool 2, Geostorm, and, most recently, Joker.
Amy Entelis, Worldwide Executive VP of Talent and Content Development at CNN: "I really try to keep my mind on the thing I'm really doing as opposed to letting it trip out on all the things I know are yet to be done. I don't always get there, but that's a little game I try to play with myself."
About Entelis: She is responsible for all new program development, acquisitions, and recruitment of on-air talent for CNN globally. She's also developed more than 30 original nonfiction series, such as Anthony Bourdain: No Reservations and United Shades of America.
Dee Rees, Writer and Director: "I would say to not waste your energy on someone who's disinterested in you. You're not going to make someone engage with you, you're not going to make someone believe in you. You just gotta keep doing your thing, and then you find your tribe that way."
About Rees: She is known for her feature films Pariah, Bessie, and Mudbound, for which she was nominated for an Academy Award for Best Adapted Screenplay. Coming up, Rees will direct The Last Thing He Wanted, starring Anne Hathaway and Willem Dafoe.