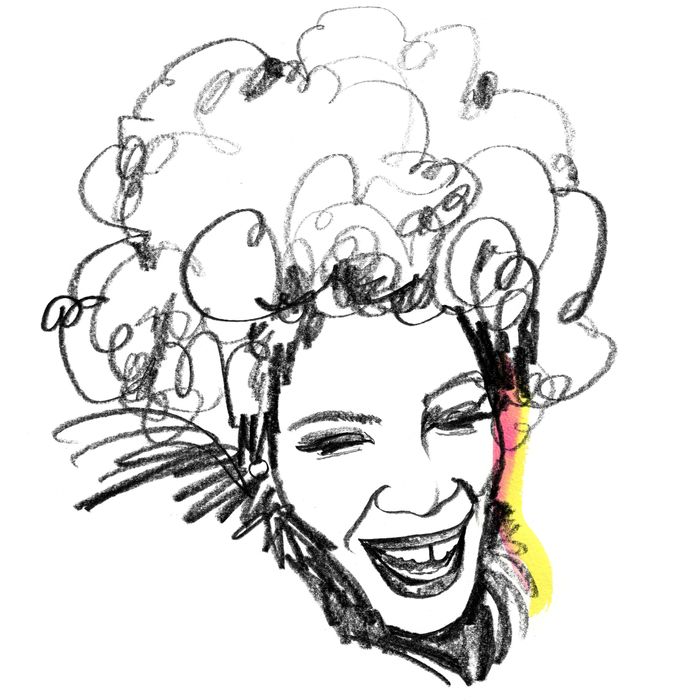 Macy Gray.
Illustration: Lauren Tamaki
Macy Gray's raspy, rattling, soulful voice is one of the most distinct in R&B music. She released her critically acclaimed debut album On How Life Is in 1999 when she was 32 years old, and its most popular song, "I Try," launched her into megastardom and delivered her a Grammy. In the roughly 20 years since, the Canton, Ohio, native (whose legal name is Natalie McIntyre) has amassed a global fan base, appeared in many films and TV shows, and released ten studio albums — most recently 2018's Ruby. Gray lives in Tarzana, CA, with two of her children, who are in their 20s. Here's how she gets it done.
On a typical morning: 
I wake up at 6 or 7 a.m. no matter what. After having kids, my [body's] clock is still on auto. Because I'm up so early, I go back to bed a couple hours later. By the time I wake up again, I have a million things to do.
Lately I've been working out, usually at my house. I put on a sauna suit, and I ride a stationary bike. My driveway is a long hill, and I run up and down that about four times, too. I also have a tennis court.
On productivity: 
My love is music, and I have not been able to focus on that too much lately. We have a lot going on: starting a new record soon, opening a restaurant, and a beauty shop [Macy Gray's Braid Bar in Woodland Hills, California]. It's just a matter of knowing what to put first in the day. I want to get a record out by March, so it's good to have deadlines.
On the challenges of the music industry: 
I think the worst part [of the music business] is that it's all judged by numbers. You put out an awesome album, and then someone puts out a crappy album and they'll get more numbers because they had better promotion. But, I guess that's just life.
It costs a lot of money to have a No. 1 record. There's a lot of people that have to be hired, and you have to hire the right people, and there's a lot of money involved. It's setting it up, and making all the right moves, and having the finance to do it.
On managing stress: 
Lately I've been stressed out constantly. I'm not managing it well at all. Stress for me feels like the look on your face when you stub your toe. It's painful, like you can't wait to figure it all out so you can get that look off your face.
You can plan to death, but life does what it wants. You don't know what's going to go right, what's going to go wrong. You just deal with it. You just keep going until you see what's going to happen. Just don't stop. Because if you stop, you've got nothing.
On handling criticism: 
I take everything personally. I don't say anything, but I'm actually pretty sensitive. When I see something that mentions my name, I'm really nervous about reading it. I don't read all of my reviews. My record label always sends me the responses from my Instagram, but I don't really read them because I don't know what they're going to say. It really affects my day if someone puts me down as far as my music is concerned, or my looks.
On how she relaxes: 
Usually I like to put a little alcohol in my bag and just go to a movie. That usually smooths me out pretty well.
On her political ambitions: 
In my career there are things that I want, but I also want to run for office — to be on the school board, or be a councilman or something. I want to help change things. I've found that you can donate and march and put your comments on social [media], but it really doesn't matter if you don't have the power to help move things to a better place.
On the advice she'd give her younger self: 
I know this is going to sound corny, but you need to be good to people. You need other people to get what you want out of life — not to use them, but it's important to have people on your side and to have people root for you. I remember all of the people who didn't do me right and I remember all of the people who did. People don't forget. And when you're trying to get to where you want to go, you can't do it alone.