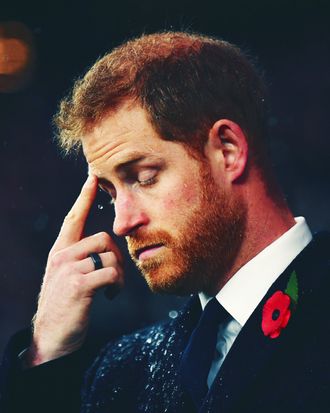 Much to think about.
Photo: WPA Pool/Getty Images
Prince Harry and Meghan Markle's announcement that they would be "stepping back as 'senior members' of the royal family" may possibly have taken their fellow Windsors by surprise: Many tabloids have since made hay of the alleged royal wrath, reporting that Harry's dad, Prince Charles, is "incandescent with rage," and that the Queen is, ah, furious. Her heirs, you see, may only have received about 10 minutes' notice before the big news went live, and while Harry allegedly presented his father with a plan for his own redistribution, said plan had not been given the green light. The Queen, according to palace sources, expressly instructed her grandson to hold his horses while the family hammered out the details, but instead he flung open the stable doors and let them run free.
It was a bold move, an unprecedented move, but should it really have been so shocking? When Harry has virtually no chance of ever ascending the throne, anyway? And when he has spent years battling a belligerent press that bullies his wife; a press that has traditionally described him as a "wayward" son, a "runaway royal," a "rebel prince," and various other alienating terms? Haven't we always known that Harry chafed under the weight of his title? Hasn't the writing arguably been on the wall?
None of us lives inside Harry's head, so no one can really say how long he may have been thinking about revising his royal role. But since firing off the Instagram post heard 'round the world, a 2017 interview has resurfaced, one that suggests Harry may have contemplated some kind of departure before — specifically, around 2008, when an Australian tabloid cut short his time in the British Army by leaking his location. "I felt very resentful," Harry later told the Mail on Sunday. "Being in the Army was the best escape I've ever had. I felt as though I was really achieving something. I have a deep understanding of all sorts of people from different backgrounds and felt I was part of a team."
"I wasn't a Prince, I was just Harry," he added. Before his deployment, he explained, he struggled to find meaning in his assigned position and came "very close" to having a breakdown on several occasions during years of high-profile partying. "I felt I wanted out but then decided to stay in and work out a role for myself," Harry said. "We don't want to be just a bunch of celebrities but instead use our role for good."
In their "stepping back" statement, Harry and Meghan wrote that they intend "to carve out a progressive new role within this institution" — which is to say, the Monarchy — and that they will focus on their forthcoming charitable foundation. That all tracks with Harry's 2017 comments, although it does not necessarily mean that he has been yearning to make this adjustment for over a decade. It may simply be an accumulation of factors: As Kaitlin Menza, host of the "Royally Obsessed" podcast, wrote for NBC, "The move might seem severe, but for royal watchers, it's been building for quite some time."
Harry, Menza points out, "is sixth in line to the throne. Prince Louis, his toddler nephew, has more royal significance than he does." And still, he has spent his life hounded by the press, explaining in an emotional ITV documentary that the paparazzi coverage brings back memories of his mother's death. Meanwhile, the British tabloids have subjected Meghan to relentless scrutiny, much of which has been sexist and/or racist: In 2016, he attempted to temper the intensity with a "love shield," pleading with the papers to back off. It does not appear to have worked, and Meghan has been open about struggling under the constant surveillance.
The Duke and Duchess filed lawsuits against multiple tabloids last year, for allegedly hacking his phone and for publishing a private letter Meghan wrote her estranged father. "My deepest fear is history repeating itself," Harry wrote in a statement explaining the latter suit. "I've seen what happens when someone I love is commoditized to the point that they are no longer treated or seen as a real person. I lost my mother, and now I watch my wife falling victim to the same powerful forces."
Given all of that, and given the attendant speculation about strife between different palace factions (Harry and William fighting; Kate and Meghan feuding), the Sussexes have been rumored to be unhappy for a while, with some sources going so far as to suggest they felt "totally unwelcome" within the family. And while we don't know how long Harry has been thinking concretely about scaling back his presence, it's hard to blame him for actually doing it.