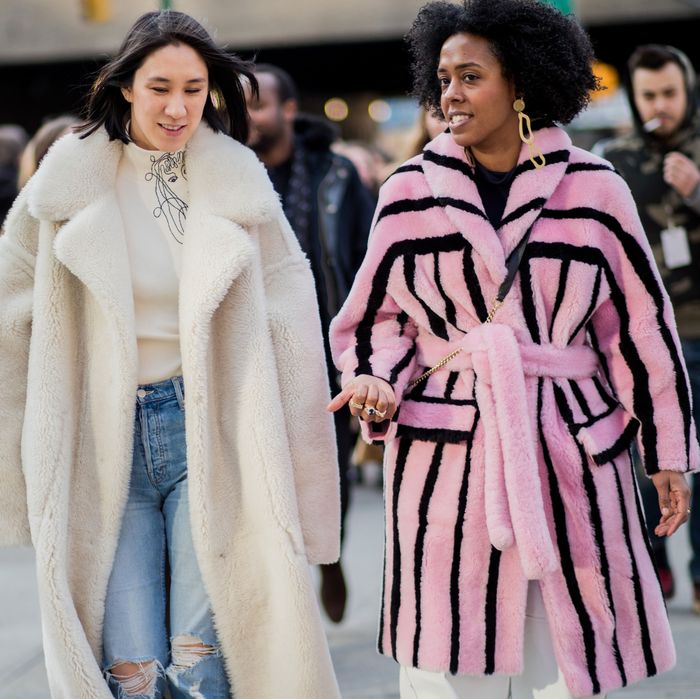 Clean coats.
Photo: Christian Vierig/Getty Images
How was your New Year's? Did you do anything fun for the holidays? I spent a large portion of it in West Texas, alternately hiking and warming up by a fire. I only brought one coat and I haven't been able to get the pungent sweat/smoke smell out of it. There's a reason people don't hike in full-length wool coats. Now that I'm back in New York, my favorite camel-colored wool coat has a distinct, unpleasant odor.
That's an extreme example. But it's January. If you live in New York, we're about two months into winter and maybe it's time to check in on your coat. I don't know about you, but I have three coats I wear regularly: a puffer coat for weekends and errands and the gym; the aforementioned camel-colored wool coat that I wear with pretty much everything, including sometimes sweaty gym clothes if I planned poorly; and a statement coat in pistachio green with leg-of-mutton sleeves for when I feel especially fashion. The latter probably doesn't need to be washed, but the former two definitely could. In fact, it's been three years since I've washed the puffer. Is that gross? It feels gross.
Since your coat goes over your body, it doesn't need to be washed that much. But there are several reasons why I, and maybe you, too, don't wash your coat. For one thing, you have to know how. Most puffer coats can be machine washed and dried. If you have some other kind of coat, here is a super-helpful guide to how to clean it.
Or you could look at the care instructions. Many care labels will tell you to take it to the dry cleaner, but that's expensive and not always great for the environment or your own health, so you can likely spot clean and deodorize at home instead. How you spot clean will depend on what kind of stain it is, but I find most stains can be treated with Tide or a bit of stain remover (the same kind you'd use on other clothes) and a damn cloth. This guide, also by Mary Marlowe Leverette from the Spruce, is helpful.
Personally, I've been working on a sustainable plan to keep my coats clean, inspired by The Conscious Closet by Elizabeth Cline. My puffer coat will be washed cold and hung up to dry in my apartment on a day when I won't use it. The wool coat, however, I think I'll spritz with a combination of one-part vodka to four-parts water (Cline's recommendation to remove smoke smell and other clingy scents). Then I'll let it hang in an airy part of my apartment to further deodorize, spot clean any stains, and voilà! New coat! Make a drink that's four-parts vodka, one-part olive juice to celebrate giving your coat new life.
Maybe you know this. Maybe you clean your coat every season. In that case, good for you, you didn't need to read this blog.