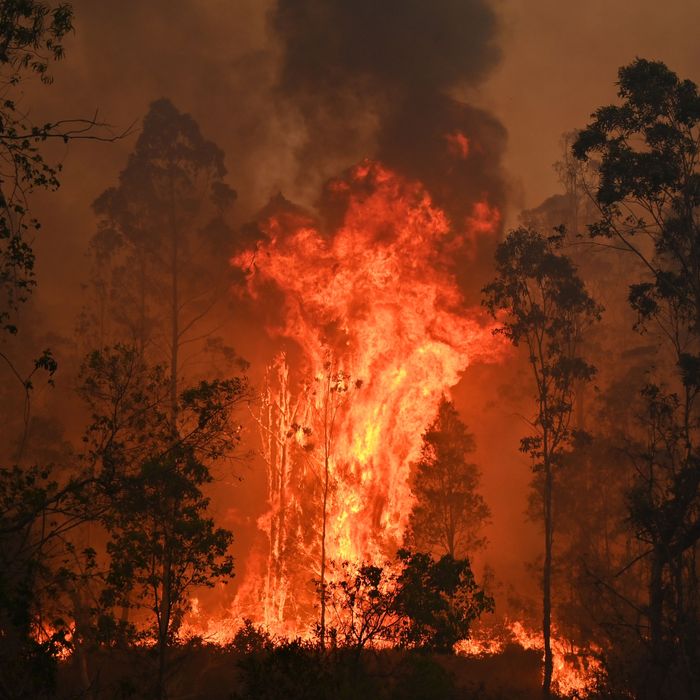 A fire raging in Bobin, Australia, in early November.
Photo: PETER PARKS/AFP via Getty Images
Since picking up in September, the bushfires ravaging parts of Australia have caused damage so irreparable and widespread it can at times seem nearly impossible to comprehend. In mere months, an estimated one billion animals and 25 humans have been killed, and 12.35 million acres of land containing approximately 2,000 homes have been incinerated.
The initial global response to the fires was largely apathetic — what David Wallace-Wells called "a scary portent for the future" on Intelligencer. But as the destruction has worsened, people across the world have started to direct their attention and resources, prompting many mentions even during the Golden Globes in Los Angeles on January 5. Though some rain has begun to fall in the regions most affected, officials are warning that some of the raging fires will join together to form a "mega blaze" in the coming days.
Below, here's how you can help fight the fires.
Donate to these relief efforts.
• First Nations GoFundMe Fundraiser: An online fundraiser with the goal of offering "culturally sensitive, specific direct support" to First Nations communities that have been affected by the fires, including relocation costs, emergency relief, and basic amenities.
• GIVIT: This Australian nonprofit connects people in need with the items and services that they ask for. If you are actually in Australia you can provide requested things like mattresses, fridges, and food, but if you're not you can make donations that will be used to purchase them.
• RSPCA New South Wales: Veterinarians, inspectors, and staff of the RSPCA are currently helping to evacuate animals and livestock from affected areas in New South Wales, but will begin to return to areas where the fires have already burned to assess the damage.
• Australian Red Cross: Give money to help send help to people who have evacuated from their homes via the Red Cross's Disaster Relief and Recovery Fund.
• WIRES: Another Australian wildlife organization working to find and help sick, injured, and orphaned animals, WIRES accepts donations via credit card, Paypal, and Facebook.
Support Australian fire services.
Local fire brigades fighting bush fires around the clock accept donations via their websites, including New South Wales Fire Service, the SA Country Fire Service, Tasmania Fire Service, and the Western Australia Fire Service.
Adopt a koala.
A sweet and now extremely urgent donation to the World Wildlife Fund allows you to virtually adopt a koala for $55. (Some koala populations have been wiped out by the fires, including the only disease-free group in the country on Kangaroo Island.)
You can also support the Port Macquarie Koala Hospital, which has already brought back 31 thirsty and traumatized koalas from fire-afflicted regions. They are building drinking stations for koalas still in their habitats who need water, as well as hoping to build a "koala ark" for rehabilitation.
Get more involved in environmental activism.
Collective action to contend with the world's climate crisis will only come if people demand it. In August, when fires in the Amazon Rainforest were burning (they are still burning), the Cut suggested that you consider getting involved with leading movement groups including the Sunrise Movement and the People's Climate Movement, both of which are pushing for the passage of the Green New Deal, a policy package that aims to simultaneously reform the U.S. economy and fight climate change.