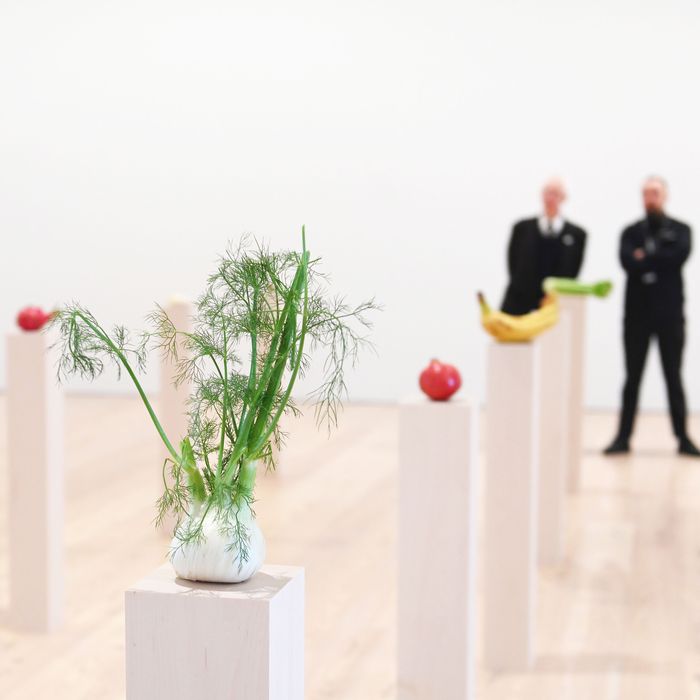 Visitors to the Whitney can reflect among the produce.
Photo: ANGELA WEISS/AFP via Getty Images
Can you pinpoint the worst salad you've ever eaten? I can. And no, I did not attend Fyre Festival in 2017. Rather, I attended the new Darren Bader show at the Whitney Museum.
Bader is best known for his 2012 piece "Lasagna on Heroin," which is exactly what it sounds like: a piece of lasagna injected with heroin. His (equally aptly titled) new Whitney show is "Fruits, Vegetables; Fruit and Vegetable Salad." For the exhibition, Bader has turned the 8th floor of the museum into a fine-art farmers' market that you can visit now through February 17. Over 40 different fresh fruits and vegetables — "nature's impeccable sculpture," as he calls them — are presented on wooden plinths. Those who feel the New York restaurant scene is already guilty of putting cauliflower on too high a pedestal, be warned.
Anyone who has accidentally blown an entire paycheck at Whole Foods will be no stranger to the enticing produce displays — but with no shopping list to distract you here, it's easier to appreciate the variable hues and shapes of the edible artwork. While it's surely a marvel to see ripe dragon fruit in New York City this time of year, Bader's elevated approach to groceries goes further. It also includes a performance.
As the Whitney website helpfully explains, "Before over-ripening, the produce is removed from the pedestals by museum staff. It is then chopped, sliced, shaved, and diced into a salad, which is served to visitors." It then lists the designated salad-making and -eating times throughout the week. The vague description left me with many pressing questions. Will there be dressing? Do I have to give back the bowl? Can I only consume my salad in the designated gallery, or is it mobile? And perhaps most urgently, When I build a custom kale salad at Sweetgreen, am I, too, an artist?
I arrived right on time for salad-eating, only to be met with 40 empty podiums and several perplexed patrons of the arts. People in New York are often described as hungry: hungry to see their name in lights, to snag that corner office, or just survive the urban wilderness. The hunger I saw in the eyes of floor-eight visitors was neither metaphorical nor literary. "Where's the salad? WHERE'S THE SALAD?" implored impeccably dressed Korean tourists and rainbow-haired art students. Modern art museums and confusion often go hand in hand. This craving wasn't intellectual, though. Simply primal.
Uncomfortable laughter filled the room for ten minutes, until some technical difficulties were overcome and a livestream taken in the adjacent kitchen commenced. This consisted of footage of two tattooed chefs chopping up the artwork, which was projected on the west gallery wall. It was sort of like watching Top Chef at 15 percent speed. They peeled and cubed for an hour, shucking raw corn with conviction and peeling pomegranate with precision. "I never expected to spend my Friday night watching a man chop fruit. But this is my 30's, I guess," the woman next to me said. "It's contemporary," another offered.
Soon, chaos erupted. "Are they putting the fruit in WITH the vegetables?" a horrified woman in a knit hat asked. Indeed, all 40 uncooked, uncomplimentary ingredients were thrown together in a single silver bowl. I heard gasps as potato, butternut squash, and yuca root were added to the raw slaw.
When the finished work was wheeled into the gallery on a cart, the crowd did a slow clap. Everyone gathered in a disorderly mass around the shiny bowl, and the fruit-art was doled out among sample-size paper cups — an expressionist amuse-bouche, if you will. Visitors offered sincere thanks upon receiving their undressed, rainbow chunks. It was unclear if the server was a curator or cafeteria worker, not that it mattered.
I looked down at my salad and searched for profundity. Was this edible cubism? Culinary collage? It was neither, but I do commend the gustatory diversity; my composition contained carrot, pineapple, ginger, zucchini, celery, plum, asparagus, and, most regrettably, yuca. I munched on my masterpiece and headed for the exit. The show left a bad taste in my mouth, though I mostly have the red onion to blame.
Taste buds aside, I did relish in the novelty. What do art museums give us? A student might say education or knowledge. Someone else, self-satisfaction, amusement, or inspiration. What's almost always true is that art museums offer us something intangible. As someone who spends a lot of their time and money ($25 general admission, to be precise) in places like the Whitney, I rejoiced in Bader's show offering me something concrete in return.