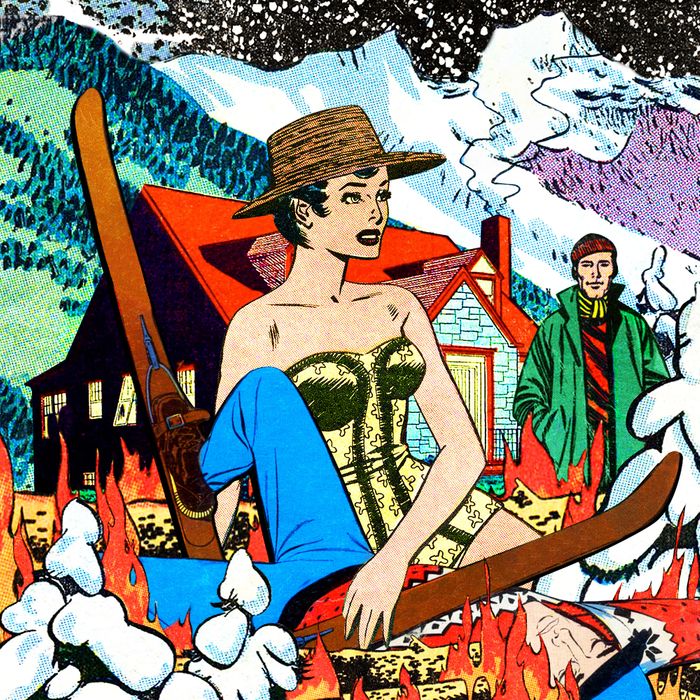 Illustration: J. V. Aranda
After a breakup with a guy I considered the love of my life, I went a little nuts. He and I had been living together, but I moved out after a swift series of events that culminated in the discovery that he'd cheated on me with a woman he sold a blender to on eBay.
Unmoored by heartbreak and desperate for change, I hatched a plan. A friend had recently moved from California to the upper Hudson Valley, and she always seemed to be having such a nice time picking flowers and cheersing wine glasses in renovated barns. I was living back with my family in New Jersey, about to finish grad school. Somehow, in my post-breakup daze, I persuaded another friend to sublet her apartment in Brooklyn, so the three of us could rent a big red house in the woods for a year. I did not have a plan except to spend time alone, heal my heart, and figure it out among the farms, mountains, and local produce.
The first few weeks I spent a lot of time crying, driving past fields of cows, or doing both at the same time. Most mornings I would wake up, look out my window at the treetops and the barn across the country street, and agonize over how I got here. I was shocked at the way my relationship unraveled, and felt leveled by the knowledge that someone I was not finished loving had decided, without me, that he was done.
At the big red house, my roommates and I sunbathed by a slate-lined creek and painted watercolor portraits of each other. When alone, I wrote sad essay fragments and never-to-be-sent letters, devoured a list of books, and waited for time to pass. I practiced a lot of yoga and whatever else I could file under healing. I read about the chakras and did exercises to open mine. I became addicted to the StairMaster at the gym, dependent on endorphins to propel me through the day.
But it wasn't long before friends started trying to cheer me up and set me up. That's how I met the guy I saved in my contacts as "Gauges" at a bar one summer night. He had a strikingly deep voice and a pine cone tattooed on his arm. I liked him. But when he texted a few days later, inviting me to go for a walk around a sculpture park, I did not respond. It was too hot, I was too sad, and it was too soon.
I barely thought about Gauges until a few months later when I happened to see him again. I was, at this point, more emotionally copacetic, and he looked good. When I approached him, I was reminded of the way he involved his whole body while he spoke, shifting his gaze and his shoulders. He laughed it off when I apologized for never getting back to him, insisting it was no big deal. I appreciated how casual he seemed, thinking, I could use some casual right about now. I asked if he wanted to split a fried-chicken sandwich with me. To my delight, he did.
I was the one to text him after that, inviting him over to the big red house to build a fire in the wood-burning stove. It was the first snowfall of the season, and I sent a list of instructions. "When you get here come around to the back on the left side of the house. The stairs might be icy. We never use the front door. Also my car is parked near the mouth of the driveway because it's not shoveled. You can pull up on the other side. It's a horseshoe."
"Got it. Drive into your car, slip on the ice, and come in the front door. See you soon!" I laughed and looked at myself in the bathroom mirror and nervous peed three different times, waiting for him to arrive.
We sat on the rug in front of the fire, drinking red wine and exchanging glowing half-truths about ourselves, all the easy-to-reveal details. When he left a few hours later, I texted a friend and said, "I made out with the Gauges guy, and I also just came back from the dead."
My family visited for Thanksgiving a few days later. "Have you met any nice men up here lately?" my mother, the incredibly patient receiver of my once-frequent crying phone calls, asked. I was sitting on the kitchen counter, legs swinging, and replied, "How can you tell?"
I was worried. I'd planned to sit in meditation and write my book and build the kind of resolve that would disallow me from being hurt at the hands of another ever again. I also thought that a period of self-induced solitude is necessary and healthy after a breakup and if you skip it, you're doomed, clingy, and the opposite of enlightened. Pinning even a fraction of my lifted mood on the introduction of a new romance felt risky.
But of course, it was much more fun wondering what I should wear to a sushi date with Gauges than lying in bed alone night after night with my obsessive questions: Am I any closer to understanding my true nature than I was yesterday? Should I meditate or do pigeon pose or write in my journal? Or worst of all, Am I still in love with my ex?
Gauges and I spent the winter together. We drove through the Berkshires in the snow to see James Turrell's light installations at MASS MOCA. We ice-skated with his friends and their girlfriends, all bundled in coats and sweaters. We cozied up in the big red house, and made each other laugh hard, steadily building a repertoire of shared jokes. Although I occasionally fantasized that he could be, I did not think finding Gauges was the fated reason why I had endured all of my heartbreaks past. But there was levity to being with him. It was thrilling to feel wanted again, and my ability to crush on somebody new was nothing short of a miracle.
It also became clear to me that Gauges always needed to be the one who initiated our plans, and we kept our time together to a maximum of twice per week. Often, when I suggested we do something, his response was a consistent "not tonight babe, but maybe tomorrow?" I didn't mind. It kept me comfortable to think of the relationship as a low-stakes arrangement. I could have my introspective nights and date somebody too.
It was springtime when the lease on the big red house came to an end. By then I had found work I enjoyed, friends I adored, and Gauges had become my de facto boyfriend. Moving here, which once felt like a reaction to circumstances gone terribly wrong, was beginning to appear if not serendipitous, then pretty close to it. I did not want to admit it, but Gauges played a role in my decision to stick around once my lease ended. While I was deciding, he'd say, "Of course you should stay," then explain how many people I would meet, how great it would be for my work. I picked up on the subtleties of his encouragement. I signed another lease, for a light-filled apartment in a century-old Victorian house in Hudson, where I'd live completely alone for the first time.
The day I picked up keys to the new place, Gauges came over and we decided to break things off. We'd had an out-of-sync few weeks leading up to my move. I'd accidentally revealed my increasing boredom when he talked about his job as an art handler, and he thought it was weird that I had an energy-healing massage. Our relationship had a shelf life, and the expiring bits of ours were showing up more regularly.
We sat on my porch while the sun was setting, casting a glow and making us squint. Gauges brought up that we were probably not each other's person and I agreed. I felt like thanking him but I wasn't sure why. I could not yet articulate that our relationship had been a catalyst, one that helped usher me out of an old story and into feeling at home in my new locale. That I was happy to have had it, and okay with letting it go.
He left and I walked into my new apartment, which did not yet have furniture, except for a small kitchen table and my yellow bicycle. I started to worry about how I was going to build the platform bed I had scheduled for delivery the next day. Then I sat on the windowsill, staring into the blank space around me, and knew for the moment that it was all right.