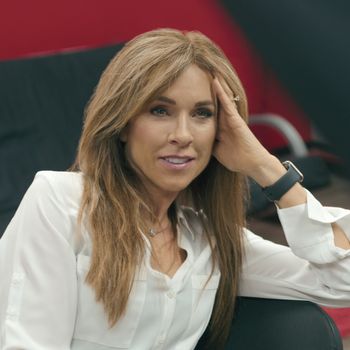 Photo: Courtesy of Netflix
Like many people, I have become surprisingly engrossed by Cheer, Netflix's new docuseries about the superstar cheer team at Navarro College preparing for the national championships, even though I couldn't tell a back handspring from a back tuck if it kicked me in the face. (And turns out it's pretty easy to get kicked in the face). But mostly, I have become enthralled by one character — the kind of character who documentary filmmakers dream of encountering, a real-life legend who makes Friday Night Lights' Coach Taylor look like some garden-variety rec league schlub. I speak, of course, of cheer coach Monica Aldama.
Monica Aldama is the Bill Belichick of cheerleading, if Bill Belichick had perfect square French Tips. In her 24 years at Navarro college, she has 14 NCA junior college division national championships and five grand national titles, making her the reigning national record holder. Sure, Monica has presided over a lot of mangled limbs and countless concussions, but that's the price you have to pay for excellence. You think she's going to tolerate your bad attitude on her squad? You think she's going to put you on mat if you don't point your damn toes? You think she cares if your broken femur is literally poking out through your bloody thigh? Try that basket toss again!
Monica has an MBA from University of Texas; she wanted to be a CEO on Wall Street before life led her back to her hometown to coach cheer. Now, she runs her squad like a business, and if you screw with her bottom line (winning the national championships) — you're done, bud. "If you're not giving your best, you're going to have a problem with Monica," says her husband, with a vaguely haunted look in his eyes. "She doesn't put up with weakness." Clearly her tactics work, because Monica's kids would do anything for her. As Morgan, one of her cheerleaders, says when Monica asks to try out an incredibly dangerous basket toss for their first time, "People have broken their necks doing this, but Monica needs me to do it so I'll just do it. I would take a bullet for her." Frankly, same.
If only I had a Monica to run my life, I can't imagine how much better I would be at pretty much everything. Maybe I wouldn't have given up piano after four lessons because my fingers got sore. Maybe I would be able to run more than half a mile without my internal organs breaking down. I would certainly work out and floss and remember to make my bed every morning, because, as Monica says: "How can you be successful if you don't organize your life?" Some days I wish Monica could stand next to me while I write, looking disapprovingly down at her bejeweled Apple Watch, as I struggle to craft a paragraph that will make her respect me. "I don't like to play games," says Monica. "If you come in and pretend like you can't hit a stunt, that's gonna hit me wrong." Do you think she cares that I was out drinking too late last night and have a hangover and now am struggling to put together a strong closing sentence? No, she does not.
While getting criticized by Monica is like falling out of a stunt with nobody to catch you, receiving praise is like being Top Girl on the pyramid — you can feel the light of the lord shining directly upon you. Monica is not just a hard-ass athletic coach but also a compassionate mentor figure, who treats her kids like they are her own. She may be a conservative Christian, but she challenges her pastor on his views about homosexuality because "if people come for her boys, [she will] fight tooth and nail for them." She takes in kids from rough backgrounds and gives them the support and nurture they never had. "I don't want them to ever feel like they're not safe with me, because they'll always be safe with me," she says. Even when she's giving them the tough love, they know that she does it because she cares, and because she wants them to be the best they can be. I may not know much about cheer, but I know Monica would scream at me to be the best version of myself as well, and personally that's all I want. And if I have to tumble out of my desk chair and break my neck to achieve greatness, so be it.