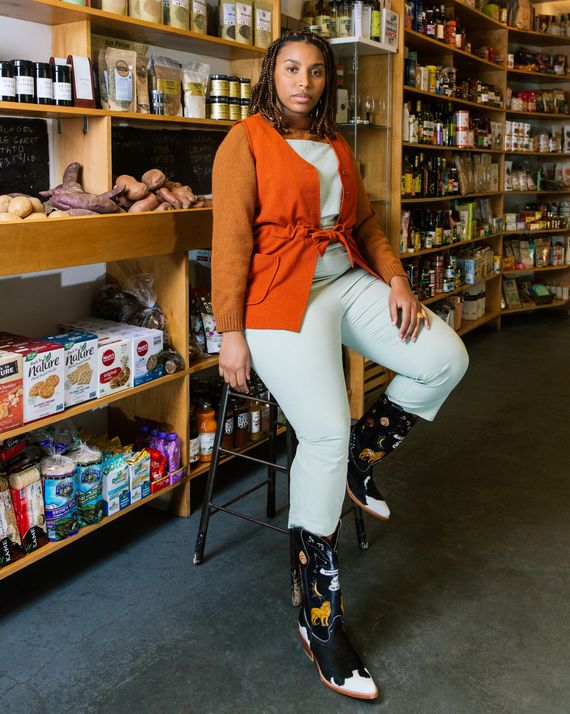 The word normally associated with Kia Damon is wunderkind. Twenty-six-year-old Damon is the first culinary director at Cherry Bombe, the food magazine for stylish people. At 24, she was running her own kitchen at Lalito, a trendy Chinatown restaurant with good cocktails and mid-century-modern furniture. She moved from Florida, where she cut her teeth working in kitchens and food trucks before doing "special dinners" right up until she moved to New York. She found out about Lalito while reading a magazine in a Publix.
Fun fact: Before she was hired at Cherry Bombe she was its "Rookie of the Year" in May 2019. Now she's recipe-testing instead of churning out meals during a dinner rush. Her new job suits her. "I can day dream, create things, and directly reach those that I'm working to support," she said. "I do miss being in front of the flames and working the pass, but it feels important to step out right now." We spoke with her about her daily wardrobe, dressing for herself, and the best parts of her job.
On her everyday shoes: My go-to shoes are my Nike Air Max Tailwind IV. I have them in two colorways now. They are so comfortable and the look is classic. I can wear them throughout the day, during and after work, and also for travel. I stay pretty consistent with what I wear. If it's an extra important meeting, I'll pull out some top-shelf shoes like my Nike x Sacai LDV Waffles.
On going from work to drinks: Usually I know if I'm going out after work, so I definitely dress for the day. If the after-work function is chill, like dinner, a Cherry Bombe event, or seeing my friends. I pull out one of my jumpsuits and a pair of earrings just to spruce it up. Then I'm out!
Shop Jumpsuits
On her daily schedule: Emails, emails, EMAILS! I usually spend a good two hours clearing up my in-box because I refuse to look at it after 6 p.m. Then from there, I could be doing anything. Right now I'm recipe-testing, so it's lots of days in the test kitchen or out sourcing ingredients. Maybe I'll interview someone for Cherry Bombe radio. I also spend some of my time reading and staying current with what's going on in my field.
On the challenges of her job: I love that my job is ever-evolving and expansive. I get restless rather quickly, so it feels great to learn every day. The current challenge is to set a foundation. Yes, I love to dream, yes, the sky is always the limit, but I need a home base to jump from. I'm essentially the first one to do this, so I want to be sure that I'm setting the standard for this role and this company that is deeply rooted in who I am. Everything is in the air and I want to bring it into the soil.
Shop Sneakers
Photo: 20-01-14 Accessories AM1 B6 alex
On dressing for the day: I dress for me and my comfort above all else. Not to be a Sagittarius sun and Sagittarius rising, but the idea of dressing to make someone else feel confident in my abilities feels silly right now. If you've done your research and you are coming to me for anything, I'm assuming you already have confidence in and some kind of knowledge of my skills. I am who I am in casual, loose-fitting knitted slacks and a Uniqlo tee. I'm that same person in a Ganni wrap skirt and a blouse.
On personal style: My style hasn't evolved much other than having a teeny bit of coin to buy the shoes that I want these days. I still hit up thrift stores like I used to. I still swoon for food patterns. I used to own a shirt with hot dogs all over. My mom hated it, but she knew it was the most "me" thing I could have brought home.
Kia Damon wears Brother Vellies Jupiter Doodle Boots, $1,150 at Brother Vellies.
If you buy something through our links, New York may earn an affiliate commission.