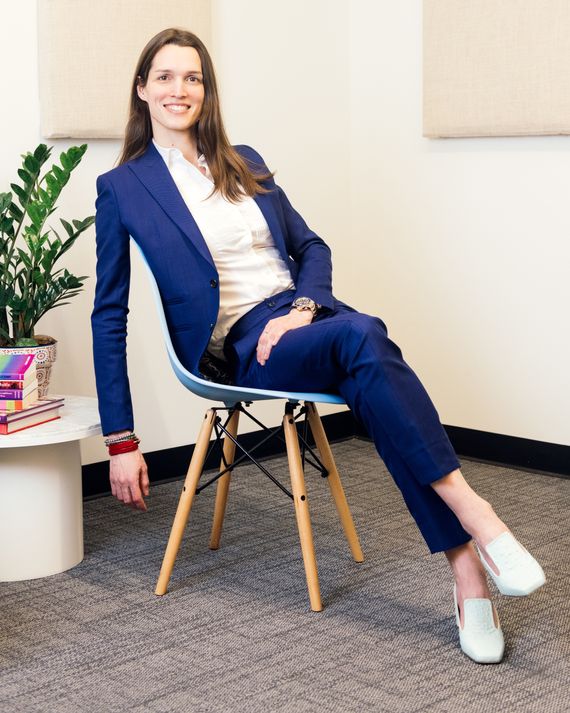 As the medical director for The Trevor Project, the world's largest suicide prevention and crisis intervention organization for LGBTQ young people, Alexis Chavez's job is crucial. Chavez makes sure that the Trevor Project uses up-to-date data to inform its programs. Online, the organization provides guides that advise on topics ranging from what to do if you have a crush of any gender expression to the warning signs of suicide. "A lot of my job involves imagining what could be. How do we continue to provide better services? How do we scale in a way that we can touch millions of people without having millions on staff? In a sense, I get paid to dream and then make it so," she said.
Before she joined the Trevor Project, she was working as a psychiatrist and spending lots of time outside of her formal nine-to-five schedule on advocacy. She founded several clinics that focused on LGBTQ mental health and interdisciplinary trans health. Between the Trump administration rolling back protections that said that health care providers couldn't discriminate based on gender identity, and the increased discrimination trans people face at the doctor's office, her work is pressing and necessary. We spoke with her about what she wears to get everything done.
On the power of personal style: At some point, I realized that you can dress in the way that feels most you while still keeping in mind how you are perceived. A professional image has always been important to me because it can be hard to be taken seriously as a young woman in a very traditional field like medicine. That being said, people can certainly tell when you're being authentic or not, and fashion is no exception. It's much easier to be the person you are than pretend to be someone you're not.
I used to have a much preppier style, with some surfer elements. That eventually transitioned into a glam-punk montage that I liked to call "sparkles and spikes". As I became more of a public-facing professional figure, I starting rocking suits. I live the suit life most of the time now, with the exception of donning a onesie while I'm at home. I think ultimately the most important thing about style is that it has to be your own. The combinations of what we wear are as unique as our fingerprints.
On her day-to-day shoes: Recently my day-to-day shoes have been a pair of black patent Doc Martens with a rainbow sheen to them. They were a gift from the company during Pride this past year. They are absolutely beautiful; in a dimmer light they look mostly black but once the light hits them the colors start dancing across the surface. It definitely changes if I am traveling. I wear a pair of bright blue tennis shoes that don't match the business tone of my outfit at all. They're just so easy to wear for walking through airports (or running, if I'm late). I can also use them to get some exercise wherever I'm traveling, without having to bring a second pair of shoes.
Shop Combat Boots
On going out after work: Typically I will wear the same thing I wear to the office. The biggest difference I change when going out is my jewelry. I like to bring several rings and flashy bracelets to make a statement. In contrast, during the day I have a standard set of 4 bracelets that I wear every day, all of which were gifts. Two of them are beaded "Chavez for Charity" bracelets (no relation) that give donations to the Matthew Shepard Foundation and HIV research. The third bracelet is an Alex & Ani bracelet. The last is a red leather strap from Italy. All together they provide a nice combination of accessory aesthetics.
On her favorite outfit: A few months ago, I bought a custom suit at Bindle & Keep. They're tailors in Brooklyn who advocate for people of any body shape or gender. I wear it every opportunity I get, whether that's to a gala, an important meeting, a day in the office, or a photoshoot. Owning one has definitely made me want another.
Throw a blazer over anything and it becomes snappy. The shirt underneath depends on my mood: a t-shirt if I'm feeling especially casual, graphic print if I'm feeling bold, or a button-up to impress.
Shop Sharp Blazers
On the last three things she bought: 1. A blue and gold tie from Charles Tyrwhitt. I can't remember the last time I wore a tie, but it was so beautiful and went great with my custom suit that I mentioned. I couldn't help myself. 2. Socks with Mr. Rogers on them that say "You are special." 3. An Invicta watch which shows all the gears working. When I was little, I used to take apart all of my digital watches and put them back together. After breaking several by somehow leaving out "unnecessary" parts, I got pretty good at it. I am continually fascinated by how things work, both in terms of machines and ourselves as people.
Alexis wears Tibi shoes.
If you buy something through our links, New York may earn an affiliate commission.