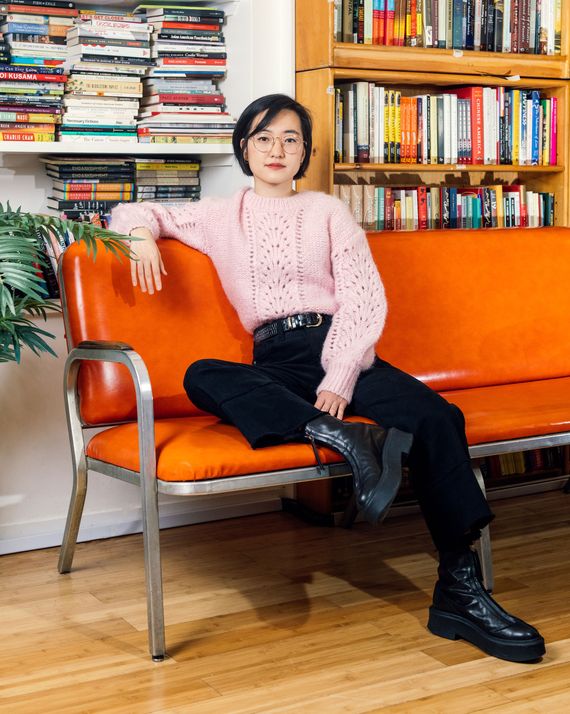 Julie Ae Kim describes herself in her Twitter bio as a "reluctant politico," not that you'd know it from her résumé. She started in politics working for the Mayor's Office of Immigrant Affairs, then became the first ever director of the Women's Caucus at the NYC Council. Next, she'll be working as the Queens borough lead for the census 2020 team. "I say I'm a reluctant politico because the political system is inherently sexist, racist, classist, and definitely not an environment that makes me feel at ease. And yet, politics can be very personal," Kim said. "So while I do feel this reluctance to take part in a system that I feel turned off by, I also know politics can have very real impact immediately. I've seen that firsthand."
Kim is also a creative-nonfiction writer who has written for Bustle and Resonate, and the co-founder of the Asian American Feminist Collective, a group that formed after the 2016 election of Donald Trump. The collective puts on workshops about Asian-American feminist history, has published two zines, and co-hosted an event at the New Museum called "Scamming the Patriarchy." She says "radical honesty" is a motivating force in her writing. "While my political life doesn't neatly fit into that mind-set, I aim to practice that in my work life too." We talked with her about what makes her feel powerful, the classist nature of dress codes, and mentorship.
On her everyday outfit: My go-to outfit usually consist of basics, like a solid-colored turtleneck or sweater, with high-waisted black pants. When I don't have time, I like to go for a minimal versatile look. I dress to be comfortable. Buying dress pants is a nightmare. I don't think I've found a pair yet that fits perfectly. Also, they are never comfortable and usually have to be dry-cleaned, which is expensive.
I love platform anything! My go-to shoes in the winter are usually black platform boots with some type of edgy detailing. I don't have much of a work/personal shoe divide.
On personal style: Well, my best friend told me last summer my aesthetic is "literary farmer" when she saw me reading in a soft oversize white tee with a straw bucket hat. Since then I've decided that just might be the look I always want to be in. In high school, I channeled Hayley Williams from Paramore hard — I was always drawn to that colorful punk style — but now, as a 29-year-old who knows climate change is a real big deal, I strive to be sustainable, buy less clothes, and do more thrifting and community clothing swaps.
On shopping sustainably: Spicy Magazine hosted a clothing swap at the Meat Market the day of the Dyke March last year, and I ended up wearing what I got there to the March. I've gone to a couple of clothing swaps since then, thrown together by friends informally, and it's such a great way to make fashion more collaborative and solidify friendships.
My favorite things to thrift are cashmere sweaters, jean jackets, and flannels. Depending on your budget you can go to an un-curated thrift store like L Train Vintage or Goodwill, but I don't really have an eye for finding gems, so I find more enjoyment in going to curated vintage shops like 10 Ft Single by Stella Dallas or Front General Store in Dumbo.
On dress codes: In my ideal world, we would all be able to wear whatever we want to work. I find dress codes outdated and, frankly, classist and oppressive. On a fundamental level, who gets to decide what the dress code is? Is it a coincidence that tech bros can dress in hoodies and sweatpants and still be considered geniuses while women or even girls in school have to dress modestly so as not to be a distraction? I just find the argument of equality through dress code and professionalism doesn't exist because biases inform people's perception regardless. For those in poverty, even buying basic professional attire to go to a job interview can be difficult.
On the challenges of her job: A big challenge I face in politics is the lack of mentorship from those with more experience than me. It's not a surprise considering the dearth of Asian-Americans or even women of color in politics. Research also shows that people in leadership tend to coach those who remind them of themselves, which leads to career growth and opportunities disproportionately given to those who are white, male, and wealthy.
On the clothes that make her feel powerful: I feel powerful when I can wear what makes me feel like me and know that I will be supported at work. I love wearing a bright, colorful, cozy sweater with a barrette in my hair while in serious meetings. It makes me feel powerful to be able to express my personality even in a government setting and still be taken seriously, as I should be.
Julie wears The Row zippered boots.
If you buy something through our links, New York may earn an affiliate commission.