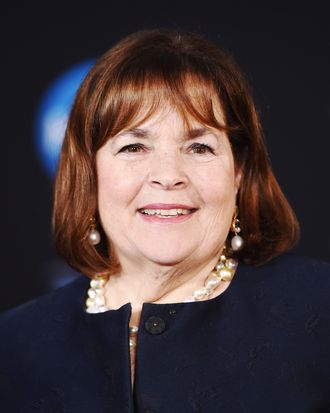 Photo: Amanda Edwards/WireImage/Getty Images
It's hard to imagine having anything in common with Ina Garten other than a belief that store-bought puff-pastry is "fine." So much about her mushroom-foraging, good-vanilla-having, Hamptons-dwelling lifestyle feels unattainable. But! But! There's something other than her recipes we can bond over: a love of Glossier lip balm. It turns out the Barefoot Contessa herself has visited the Glossier store and now owns her very own balm dot com! She shared all eight flavors on her Instagram (though it's unclear if she owns all eight or was just pulling them out for the 'gram).
Garten says her favorite was the cake-flavored balm because "don't we all need a little glitter after the holidays?" Gwyneth Paltrow thinks so: She commented, "Indeed."
A fan asked, "Is this sponsored Ina? Jw, I highly value your 'pinion." And Garten responded, "No! I never promote anything so I can just share what I love! xxxx."
Garten joins a roster of celebrities who have publicly promoted the brand. Timothée Chalamet wore a Glossier hoodie, Michelle Obama wore the red-tinted lip gloss once, and Beyoncé was the first to wear Glossier's sparkly eyeshadow product, Lidstar.
We all know that celebrities wear makeup and use skin-care products, but it's fun to track which of them are buying the cheaper stuff, in addition to their La Mer and PF50. It's also fun to imagine them waiting in line outside the SoHo store, waiting in the cold to be ushered into the millennial-pink kingdom by a jumpsuit-ed employee. Garten probably didn't do that, but just imagine it as you smear birthday-cake-flavored balm dot com on your lips.