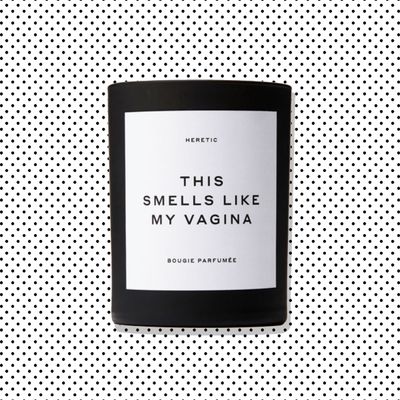 Photo: Courtesy of the vendor
If you've been following Goop over the last couple of weeks, you know that 2020 has emerged as the annus vaginus. First, there were the promo images for the lifestyle brand's upcoming Netflix series, showing GP inside a giant pink lady cavern. And then there was the "This Smells Like My Vagina" candle, a viral sensation, created by clean fragrance brand Heretic and sold (out) on the Goop website. Douglas Little is the man behind the blasphemous bougie. Here, he talks about the real inspiration for the scent, how it came to be, and the backlash.
I read that the idea for the vagina candle started as a joke between you and Gwyneth. What was the joke exactly?
Well, you'd have to ask Goop and Gwyneth about that. I can say the candle came from my development work with Gwyneth. The idea was to do something that was voluptuous and sensual and also provocative and fun. The only reason people buy or engage with fragrance is for pleasure, but I think when you look around in the industry there is still a lot of pretentiousness and old-fashionedness. That's what I was trying to avoid.
Mission accomplished! So just to clarify, is this candle inspired by any vagina in particular? 
Well, that's something the press has really jumped on — this idea that the scent is the fragrance of Gwyneth's vagina. That's not the case. It's called "This Smells Like My Vagina" meaning the person that's holding it. It's speculative and fun.
And maybe a bit political? 
I wasn't trying to be political, but there is definitely the idea of a much-needed dialogue. Just saying the word — vagina! — is shocking to some people. Why the fuck is that? There's no reason. It's this beautiful, sacred thing and yet in our society and in many societies there is a lot of stigma and shame. I think people are sick of that.
Tell me about your process. Are there scent notes that are particularly vaginal? 
You're going into the realms that are indicative of saliva and the body and these very musky notes. I knew I wanted to work with a note that had a suede quality to it, which felt very true to this concept of warm skin and softness. And I knew I wanted to work with rose notes in a way that was modern, young, and fresh rather than old-fashioned. That's why there's the geranium and bergamot which are fresh and contemporary.
And smell like a vagina? 
When you smell it, it's got a very sexy vibe, but that question is barbed. I think if you asked 50 women to describe vaginal scent you would get a lot of different answers — some coming from social stigma and what they've been told. Like Amy Schumer's got a horrific joke about vaginal odor.
I'm not sure if you saw, but Martha Stewart threw a little shade at the candle the other day. She said Goop likes to get people all worked up as a way of generating publicity. I guess the implication was shock value over quality. How would you respond?
I think this is one of those things that's all about personal interpretation. The work that I do is intended for the people who love it. It was never intended for the masses.
Ouch. Martha's not the only shade master. 
Ha!
Stewart also suggested that the candle was being bought up by horny men. Which made me wonder about her familiarity with that particular demographic. 
Well, that's the thing. I would say that about 92 percent of our customers for this product are female. When was the last time a bunch of horny guys were out buying scented candles?
The candle sold out earlier this month. Any idea on when it might be back?
We've been sold out for two weeks and we'll be back in stock Friday.
I'm sure you've gotten a lot of calls from people desperate to get their hands on one.
You have no idea! We have been hounded and stalked by so many people. I saw the candle being sold on eBay for a ridiculous price.
How did you and GP first get together? 
I was brought in by Jean Godfrey-June [Goop's Beauty Director]. Gwyneth really loved the Heretic philosophy, which is all about doing clean and natural fragrance in a way that is not so antiseptic and boring. [In 2016] I worked on four fragrances for Goop and Gwyneth was very much driving the bus on that. She was an amazing collaborator. She's has such a point of view, which is not all that common. So often in fragrance and in the fashion and beauty world people point to something they love and say, okay, I'm going to copy this, but that's not Gwyneth. The scents we developed have their own language. When you smell them, they smell like Goop.
Okay, smell lightning round. What's a scent that you love that other people don't and vise versa? 
I have real love affair with anise. It's very prevalent in Europe and some parts of Asia, but in America we have this associating between anise and black licorice which is always very polarizing. One I'm not so crazy about is the whole cake batter, vanilla-frosting trend that has become very popular. There are people that do it really well, but it's something I would run the other way from.
Who is the greatest-smelling person you have ever encountered?
Oh, that's a good one. I'm going to say my fiancé. She smells like home. Not like a house, but like safety and beauty.
On your deathbed you get one final sniff. What is it? 
Oh wow! I think my final sniff would have to be neroli, which is bitter orange blossom. It's insanely expensive to work with as a perfumer, but it's a world in and of itself. It's bitter, it's fresh, it's complex, it's overtly sexual, it's sensual, it's rotten. It's exquisitely beautiful. When I smell it, it takes me to places that nothing else can. It leaves me feeling like I've become closer to myself.
If you buy something through our links, New York may earn an affiliate commission.