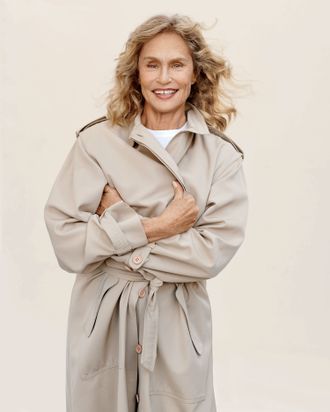 Photo: Courtesy of Strivectin
Lauren Hutton was the first person to earn a million dollars for her beauty. In 1974, she made history for her million-dollar-a-year Revlon contract. But when she turned 41, the brand unceremoniously dropped her.
Still, Hutton continued working as a model for the next 35 years. Her newest role is as the face of StriVectin, where she's trying out retinol and a real skin-care routine for the first time. She talks to the Cut about modeling at 76, sex as a "beauty secret," and the moment she realized she was worth a million dollars.
You were the first model to win a million-dollar contract. Were you scared, asking for more money? How did the negotiations go?
No, I wasn't scared at all. I was the most well-known model still working. Veruschka, Jean Shrimpton, Twiggy, and others had all stopped. I picked up their slack, and was doing everything. Then I read on the front page of the New York Times about the great baseball player Catfish Hunter (which I only read because I used to hunt catfish) saying he needed a million-dollar contract because "he was in a youth-oriented business." I thought, Bingo! I'd just turned 31 and that was old, back in those ridiculous days.
I yelled across the room to my very smart sweetheart and said, "I need a modeling contract. What do I do?" He didn't even look up from his paper, "Cosmetic companies. They have the most money. Tell your photographers and your agent that you won't do any more cosmetic ads without a contract."
When I told Dick Avedon, he said, "Good idea!" and then leaped in the air and yelled, "Exclusive! Don't work for anyone else, just that one company!" And I laughed and said, "Who could afford that?!"
Dick took some photos and showed them to Charles Revson (the founder and owner of Revlon), who loved them. It changed the business for everyone. Within a month, there were no more one-hour jobs. At the time, we used to do six jobs a day for $60 an hour. There were only full-day rates for $1,500. And then within the year, there were four more contracts for models, and that's how the whole thing started. I had it put in the contract that no one was to reveal how much money it was for because that's vulgar (I also hate the word vulgar because vulgar is such a vulgar word). But Revson leaked it! So there was mass publicity about it, and by the end of that year, the skin cream we were advertising went from having been in the red for eight years to the black. I guess it was smart on his part to leak it.
After paying you a million dollars for ten years, Revlon then let you go, purportedly due to ageism. You continue to work in the fashion and beauty industry, did you feel any resentment about what happened?
It actually started at a million dollars for the first three years, and then we negotiated higher from there because the company was doing very, very well. And I don't feel any resentment from when they fired me at 41; it hurt them much more than it hurt me. When they called me in to say it was good-bye, they told me they had done "focus groups" and discovered that "women over 40 didn't use makeup!" Well, I was over 40, and all the women I knew all used makeup.
Corporations are usually at least ten years behind the times, stuck in their past successes like quicksand. That's a reason why I like StriVectin. The executives (mostly women) are smart enough to know that women over 40 have value, and that women in their 70s are still vibrant and thriving.
It's the new age of aging. It's taken years to get here and I'm glad to be a part of it. I have always said that if my life could stand for one thing, it would be to change the way women feel about getting older.
Does it bother you that you're often still called an "unconventional beauty," even after so many decades in the business?
Early on, I probably didn't even know what that meant. But now, I am fantastically proud of that. I just happened to be in the right time and right place, as it is with any big change. I hope to do modeling till I am 100. There is a chance. My mom just turned 96.
I feel a bit like a fantastic granny to all the gap-toothed models today. There's this British one, Adwoa Aboah, who founded Gurls Talk. She's deeply beautiful. She's the most wonderful, shocking beauty to come around in a long time.
You're known as a great adventurer and traveler. What was the last adventure you had?
Well, I'm afraid it's not as often now. My 96-year-old mother is passing so for four years, I've been going back every few weeks to north Georgia to spend time with her.
I can't do what I did before. I can't dogsled. I can't trek very far. I can still dive. I started scuba diving in 1965, beginning at Precasano, these little islands off the Mexican coast. They had unbelievable reefs. That got me into diving. I haven't gotten wet in a year, but I will soon.
Your recent beauty advice — "never giving up sex" — was unconventional and cheeky. 
A little too cheeky. The silly thing is, people got all excited. People think I'm making love at 76, which I am and am very loud about it. It's very important. But if you don't have privacy, you can turn into a public fool.
I believe any kind of love you get is good for you. For example, I have a lot of godchildren. I love playing with kids with love. I feel and see love on a great scene in the dark, when I go out and find a great movie. I just saw this movie, Parasite — I saw it three mornings in a row, at Sixth Avenue.
That movie, every word was important. You see both sides very equally. You see where they made terrible divergences and why it happened. I would like to see that movie for the rest of my life. I love that movie because I learned something, and that's what keeps me young, as long as I can keep doing it.
What do you think of when you think of the word aging?
I think that's the point of life, if you're lucky. Hopefully, it's growing up. You get to be wise. That's the point. You read; you talk to the smartest people in the world and listen to them.
Have you always been so practical about aging?
I completely freaked out around 42 to 43. I put on about ten pounds — which I know isn't a lot, but on-camera, it looks like 25 pounds. That was upsetting. But you talk yourself out of social ideas. We have a pretty mad society in many ways. It took me almost till my 50s to snap out of it. Now it's not nearly so bad.
I've read in previous interviews that you said you never had much of a skin-care routine before, which also makes you an unusual choice to be the face of a beauty brand.
No, I didn't. I was Miss Natural, which wasn't smart. Six months a year, I was in the equatorial sun, and I never used sunscreen because it was thick, gray, nasty stuff. Now it's much better. I didn't use retinol. I was turning into an elephant's bottom. A Shar-Pei.
I used to use coconut oil all over my body. But now I am using a jojoba oil from a company called Desert Essence. It's not expensive at all. I just put it over my hair and body. After I shower, I just stand there and let it sink in.
On my face, I've been using StriVectin for about eight months now. Almost every night, I put on something called Star, which has retinol. I never used retinol before; it's really something. Then I cover that with Recode — it's a wrinkle serum. They told me to layer it with SD plus, so I put that on my elephant creases.
As someone who doesn't do much beauty yourself, what is your beauty advice?
Drinking as much water as you can. Eight glasses a day. Sleep. Taking pleasure for yourself, being your own good mother — mother yourself.
With the forces of life, we often neglect ourselves too much. I try to go out and see movies I care about. An awful lot are worth it. I like to read and see my friends and my sweetheart. Take time for what moves you and what will make you happy.
Shop the Story
If you buy something through our links, New York may earn an affiliate commission.