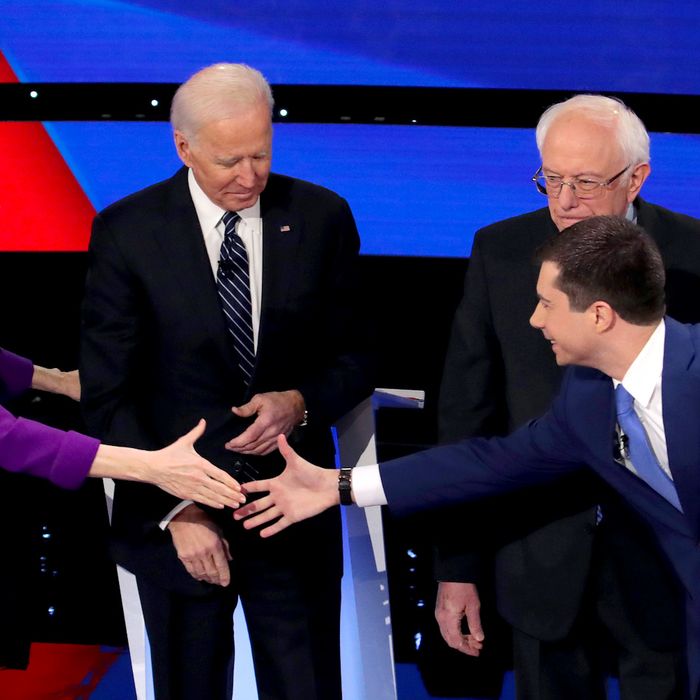 Photo: Scott Olson/Getty Images
The first Democratic presidential debate of 2020 occurred tonight in Iowa, and even though there were only six candidates this time, the night was as long and chaotic as ever. On many people's minds was this week's conflagration between Bernie Sanders and Elizabeth Warren, the fallout from a recent CNN report alleging that Sanders had cast doubt on whether a woman could beat Trump in 2020. (Sanders has fiercely denied this; Warren's team insists it happened.) But that's not the only thing you missed: There was an even more awkward exchange in which Pete Buttigieg was confronted with his lack of support among black voters. Billionaire candidate Tom Steyer had something weird written on his hand. And the world pondered what exactly was happening with Amy Klobuchar's eyebrows.
Here are the highlights from a wild night in Des Moines:
What is Tom Steyer drawing on his hand?
Viewers immediately noticed that billionaire Tom Steyer had doodled something on his hand, his hand that was now on national television. Apparently it is something called the "Jerusalem Cross," and he does it "every day to remind myself that ultimately, the truth always wins." The sort of thing one tells oneself when they're mostly polling in the single digits.
Where are Amy Klobuchar's eyebrows going?
Amy Klobuchar's right eyebrow seemed extremely animated and penciled with unusual precision, and it sparked some much-needed interest in Amy Klobuchar.
Mayor Pete, we're all wondering about this.
CNN's Amy Phillips confronted Pete Buttigieg with his stunning lack of support in the black community (which he has been accused of inflating), and it was extremely awkward, as one might expect. Buttigieg replied, "The black voters who know me best are supporting me," but did not address his abysmal poll numbers.
Is Mike Bloomberg okay?
Second billionaire candidate Mike Bloomberg did not make the cut for the debate stage, but his campaign Twitter account was not at rest. The Team Mike handle was suddenly alive with disquieting memes and playful jokes about Pitbull, shaking us all to our respective cores.
And what the hell happened between Bernie and Warren after the debate ended?
When the progressive allies finally addressed their 2018 conversation about sexism and electability, their exchange was explosive, albeit respectful, and Warren had arguably the best line of the night during it. "Can a woman beat Donald Trump?" she wondered. "Look at the men on this stage: Collectively they have lost ten elections. The only people on this stage who have won every single election that they've been in are the women."
After the debate had wrapped, however, Warren and Sanders seemed to have an uncomfortable encounter, fueling frenzied speculation online. In video footage, Warren can be seen declining a handshake from Sanders; the two then speak angrily while Tom Steyer looks on helplessly — perhaps his first-ever relatable moment on the debate stage.