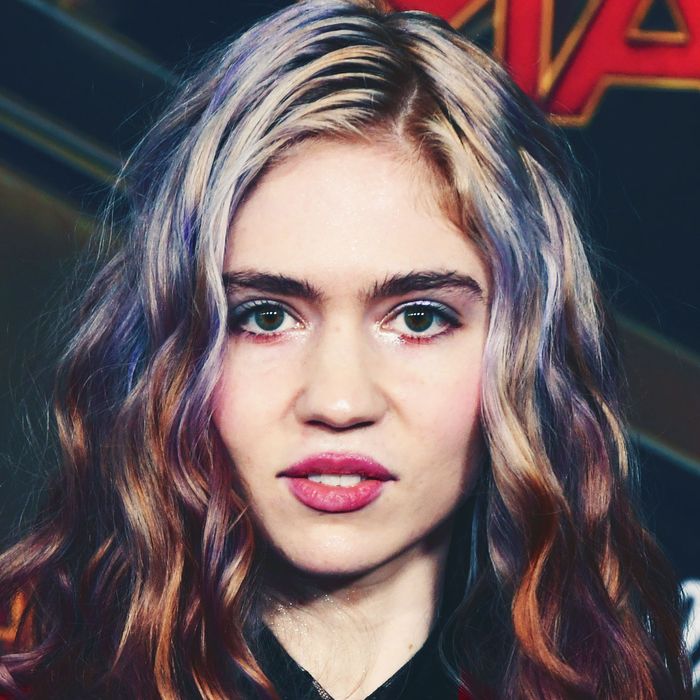 Photo: Jon Kopaloff/FilmMagic/Getty Images
On Wednesday night, Grimes, who is notoriously dating Tesla CEO Elon Musk, posted on her Instagram and Twitter accounts a topless photo of herself with an image of an incredibly large fetus Photoshopped onto her belly. What could it mean?
Although many outlets are speculating that this is the official Baby Grusk announcement, neither member of the couple has directly confirmed it. (Several unnamed sources did tell Just Jared that Grimes is pregnant, citing as proof the fact that she has been turning down drinks at social gatherings.)
A part of me thinks she'd never do something as straightforward as an Instagram pregnancy announcement; with Grimes, the line between truth and internet performance art is never clear. She shared her wellness routine last summer — a schedule that included sword fighting, screaming sessions, and a deprivation tank — and absolutely no one knew what to make of that.
The singer did allude, albeit very ambiguously, to the experience of being pregnant in response to someone's comment about not blurring her nipples in the photo:
I thought about censoring them for a hot minute haha (this may get taken down anyway) but the photo is so much less feral without the nipples. Plus being knocked up is a very feral & war-like state of being. Might as well be what it is. Plus most of my friends told me not to post them so then I was afflicted w reverse psychology. Interrogated my shame and decided it was sum weird internalized self hated to feel uncomfortable about my body. Hope ur having a nice day!
Well, perhaps little Grusk really is on the way.