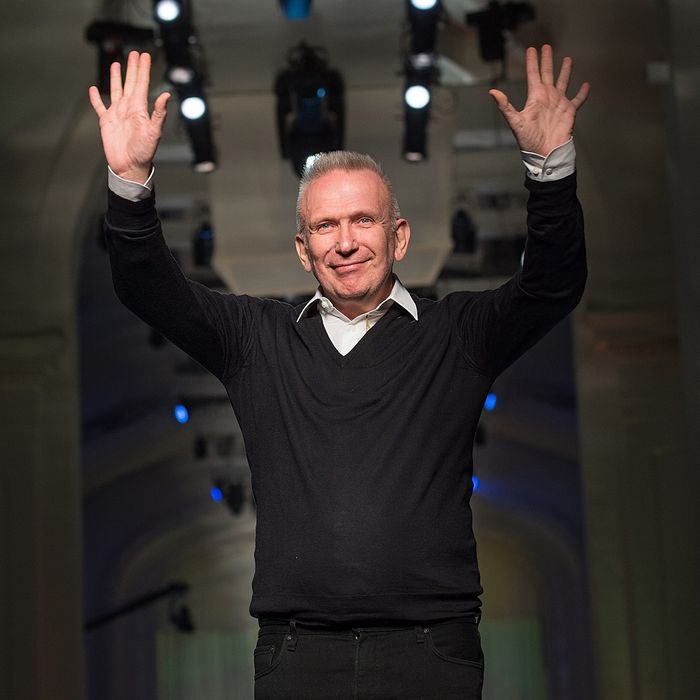 Photo: Stephane Cardinale - Corbis/Corbis via Getty Images
Jean Paul Gaultier, the legendary couturier, will take his last bow next week at his Spring/Summer 2020 couture show. Gaultier is above all a showman, and so his final bow will be — after 50 years in fashion — an appropriately theatrical exit. Sixty-seven-year-old Gaultier founded his company in 1976 and started doing couture in 1997, bringing camp, lingerie, and intricate tailoring together each season. He's known for his love of sailor stripes, cone bras, and bustiers — lots of bustiers.
The brand announced the news on Twitter with a charming video of the designer on the phone, explaining to people that he will take his last bow next week, and can you come? It'll be quite the party. He also says the brand will live on, and he has "a new concept, I'll tell you about it later."
This will be Gaultier's last runway show, but he already said good-bye to ready-to-wear shows in 2014. Couture and ready-to-wear shows were equally theatrical in Gaultier's world. He's levitated reporters at shows, sent bagpipes and a model Irish step-dancing down the runway, and got Madonna to model topless in 1993 (he also designed her famous cone bra).
If his good-bye to ready-to-wear show was any indication, we can expect the show next Wednesday to feature lots of celebrities, in-jokes with other designers and top editors, and a standing ovation.