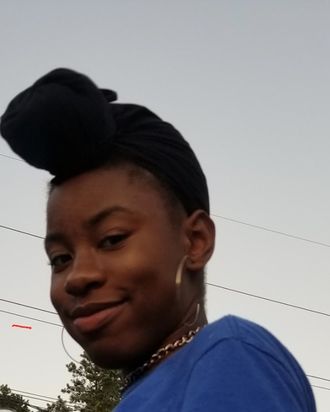 Jenna Alexa Hospedales.
Photo: Courtesy of Jenelle Hospedales
A teen girl from Brooklyn who went missing on her way home from school last week was found Tuesday afternoon. Her mother confirmed to Pix11 that Jenna Alexa Hospedales, 14, is now home safe.
Before Tuesday, Jenna was last seen leaving Brooklyn Technical High School in Fort Greene on January 9. The freshman entered the Fulton Street subway station around 3 p.m., apparently planning to take the G train back to her apartment, located between the Crown Heights and Ocean Hill areas of Brooklyn.
"She's never gone missing," Jenelle Hospedales, Jenna's mother, told the Cut on Monday night. Jenelle said that police appeared to view her daughter as a runaway, although the NYPD did not confirm that detail — a spokesperson only said that "the investigation is active and ongoing." On Thursday, the 77th Precinct Twitter account did share Jenna's photo, asking for any information the public might have as to her whereabouts.
"She is not a child who is super on social media," Jenna's cousin, Crystal Hospedales, told CBS New York. "She's not a child that dates. She's not a child that has a wild side. She has never left home, so we are extremely concerned."
It's not presently clear where Jenna was during the past five days.
This article has been updated throughout.