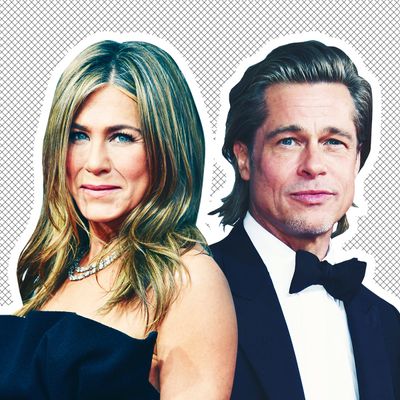 You know when you run into an ex and friends observe you exchanging pleasantries, and then afterward everyone comes up and asks you, "Was that awkward? How do you feel about it?"
This is the collective practice we engage in every time Jennifer Aniston and Brad Pitt simply breathe the same air. It is impossible to resist the deeply felt urge to regard any communication between the two, any at all, as indicative of larger meaning in their relationship, and therefore our relationship with their relationship.
Case in point: Aniston and Pitt, who divorced 15 years ago, were the subject of breathless observation, as they always are, at last night's Golden Globes. They both pointedly … attended the major industry event for their shared profession, as they do almost every year without failure.
First, Aniston laughed at Pitt's Titanic joke during his acceptance speech for Best Supporting Actor in a Film (which erroneously referred to the "raft" Leonardo DiCaprio drowned on in that film — it was a door). Kind.
She also laughed at his joke about how if he brings someone to any event, even his mom, people will say they're dating. Good one, Aniston thought (perhaps).
Then, the pair reportedly "said hello very quickly" at an after-party. Per an "eyewitness," Aniston and Pitt "approached each other once they saw each other inside and looked happy as they started to hug and say hello. Jen whispered something to Brad, but it wasn't in an affectionate way. They both didn't seem like they wanted to make a big deal about being together in the same room although it was a private party. They were trying to be low-key."
Low-key, or were they trying to tell us, the people, their devoted fans and close friends, something important that only we can discern!