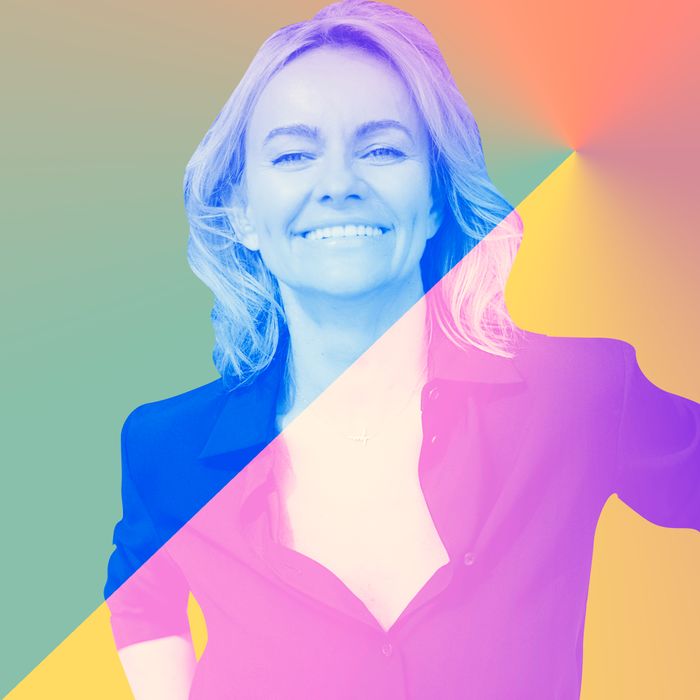 If you're lucky enough to get a facial from Joanna Czech at the Webster in Soho, she will probably tell you a dirty joke or two, and you will likely ask her how she created the perfect shade of icy sea-green glass walls that lines her treatment rooms, or where her chic, chunky black eyeglasses are from. You might catch a glimpse of Amber Valletta slipping into the elevator, or register that the woman quietly sitting on the sofa in the waiting area is Michelle Williams.
Williams was just one of 30 faces Czech treated last weekend leading up to the Golden Globes.
"Jennifer Aniston, Rooney Mara, Kate Mara, Sophia Bush," she rattles off as if taking attendance like Ferris Bueller's teacher. "And that was the smallest number I've ever done. At the Met Gala, we worked for almost 17 hours straight. I nearly died! Thank God I love what I do."
Growing up in Communist Poland, Czech was a competitive runner for 12 years, then set her sights on medical school. When she couldn't pass the physics portion of the exam, she enrolled at Studium Estetyczne in Bialystok instead.
"We were studying anatomy, pathology, and physiology of the nail plate," she boasts with a laugh. "I was like, 'I'm practically a doctor!' By month three, I knew I wasn't reapplying to medical school."
When she was 25, Czech took a trip to Chicago with a client's daughter, but decided to stay. She procured a visa, moved to New York, and found work at a salon in Hudson Heights. She was eventually hired by Paul Labrecque, who put her name forth when Vogue needed a manicurist for a September kcover (happily, both hands and feet made it into the shot).
She opened her own place near Washington Heights eight years later, treating clients like Kyra Sedgwick, Liam Neeson, and Christy Turlington. When she moved to Dallas for love in the early aughts, Labrecque kept a room for her, up until the recent move to the Webster.
Last month, Dior tapped Czech as its skincare ambassador, but don't expect the new appellation, the swanky Webster digs, or an ever-growing list of famous clients to confirm her belief that she's "made it."
"I'll always be a little skeptical, but I am grateful," she shrugs. "Everybody gets their dirty jokes, but they keep coming back for more."
That's it, Joanna. It's the dirty jokes they come back for.
Czech spoke with the Cut about her packing skills, being an LED pioneer, and why she doesn't believe in beauty trends.
What's your definition of beauty? Beauty is such a big word, and so subjective. Beauty exists in all aspects of life, from nature to fashion to human beings. I think regarding humans, authenticity is key, as is intelligence, self-confidence, a big heart, and generosity. Your mental and physical health play into beauty as well — the eyes reveal everything.
What do you think when you hear the term "clean beauty"? I am more drawn to the term "clean science." When I hear "clean beauty," I think it means 100 percent natural, and in my 34 years of experience, I've found most 100 percent natural products are not effective. I am, however, against the use of all toxic ingredients, and look to European certification, as they ban 1,200 ingredients that the U.S. still uses. I think there are nontoxic, non-100 percent natural ingredients that create highly effective products.
Where, if anywhere, in your beauty (or life) routine are you not quite that "clean," "green," or "sustainable"? I don't pay a lot of attention to my hair-care products. I try lots of products, and as long as they don't contain any of the toxic ingredients, I am okay.
Please fill in the blank: I think about _____ a lot. My dad. After losing him two years ago, I think a lot about him and our time together, and have so many great memories.
What is the opposite of "beautiful"? Being dishonest and fake.
What is your morning skin-care routine? First, I take a shower and massage my body with my silicone gloves. I focus on my thighs, butt, stomach, and upper arms. I buff my feet in the shower and rinse my face with water and a washcloth to remove the residue from my nighttime products and gently exfoliate. After the shower, I apply Environ Derma-Lac Lotion and A, C & E Oil to my body. On my face, I use toner, then serum — depends on how my skin is feeling — followed by a rich moisturizer. Lip balm always as well. Occasionally, I use green tea or chamomile ice cubes that are in my freezer around my eyes to help with the puffiness that has come with aging.
What's the last beauty product you use every night? Dior Super Potent Serum and Dior Capture Totale Multi-Perfection Crème.
What aspect of your beauty routine tends to be neglected? I am pretty thorough, especially at night. In the morning, I don't always do the body treatment, especially if I'm in a rush.
What, if anything, is usually on your lips? Clé de Peau Lip Glorifier or Dior Addict Lip Maximizer plumping gloss.
What shade, if any, is usually on your hands and toes? I wear nothing on my hands, but my toes are always a blank white. My husband thinks I was born with white toes.
What makeup item would you never skip? I don't wear makeup on a daily basis. But sometimes, my rosacea acts up, and I use Clé de Peau Radiant Fluid Foundation with SPF 24. When I do wear makeup, I love my Diorshow Mascara, Tom Ford Nude Vanille lipstick, and Iconic London Multi-Use Cream Contour set. (I use a little of the darker color under my cheekbones to give them a little definition.)
Facial cleanser of choice: I have 10 different facial cleaners on rotation. It depends on how my skin feels. Sometimes I love milky ones, sometimes balms, sometimes jelly, sometimes oil. My top choices are Biologique Recherche Lait E.V., Glossier Milky Jelly Cleanser, Tatcha Camellia Cleansing Oil, Environ Low Foam Cleansing Gel, and Omorovicza Thermal Cleansing Balm.
Fragrance of choice: Jo Malone Oud & Bergamot with a splash of patchouli oil.
Bath or shower? I have deep respect for baths, but out of practicality, showers, with Nécessaire sandalwood or eucalyptus shower gel.
Most relied on hair product or tool? Redken Thickening Lotion 06. It changes the texture of my hair for the better.
What beauty product is always in your travel bag? Face mist, my facial massager, and facial oil.
What beauty item do you usually forget to pack? I don't forget to pack because whenever I return home, I immediately prepare my toiletries for my next trip. I do occasionally forget my compression socks though.
What discontinued product do you mourn? Shu Uemura Nude Lipstick and a drying camphor lotion by an Israeli brand whose name I can't remember.
What beauty product still needs to be invented? A brightening product, that does not involve lasers, that would target and treat hyperpigmentation. This is one of the hardest conditions to address.
What was your first beauty-product obsession? I would not refer to it as an obsession, but rather a necessity. In Poland, children are told to moisturize and take care of their skin. I was 12 when I started, as a student athlete, and it was necessary because of the sweat and dirt on my skin.
Purse of choice: Hermès Kelly bag.
Who makes your eyeglass frames? I tend to buy sunglasses that I turn into readers. My favorite brands are Thierry Lasry, old Celine, or Feb31st.
How do you like your bed? On the harder side. A firm mattress and all-white crispy cotton or linen bedding from Parachute.
How do you like your living room? Simple, contemporary, not cluttered. Light colors, lots of light, and a very comfortable couch.
What do you splurge on? Gifts for people, and shoes for me.
What do you scrimp on? Water in hotel minibars. I will cross the street and pick up water from Starbucks (which is not cheap) rather than take it from the hotel.
What is your classic uniform? V-neck tops or sleeveless turtlenecks, all sorts of pants, and comfortable, interesting shoes. Shoes are where I am bravest in terms of fashion.
What shoe are you usually wearing? I have over 500 pairs, so I wouldn't say I usually wear any one type, but I do start my outfit with the shoes, and I get excited with a new pair. The dominating designers in my collection include Alaïa, old Celine, Bottega Veneta, and the Row, and classic Manolo Blahniks are my favorite heels.
Current favorite fashion item in your closet: Crossover pants by R13.
What color is your usual fashion pop of color? Shades of blue.
What are the first three things you do when you get home from work? I take off my clothes, shower for three minutes, put on my pajamas, and get ready for dinner, which my husband prepares.
If you were a makeup shade, what shade would that be? Nude.
Any hidden or secret talent or skill you possess? I am really, really good with numbers, quite athletic, and speak four languages (Polish, English, Russian, and Italian).
What was the most recent interesting conversation you had? I had a super-interesting conversation about fillers and Botox and their neurological effects and the ways they change the way we look and behave with Edouard Mauvais-Jarvis, Dior's scientific-communication director.
What would the name of your autobiography be? Made in Poland.
Who would you like to star as you in the film adaptation? Margot Robbie.
Favorite smells? Espresso and Christmas trees.
Least favorite smell? Vanilla.
What do you think Pantone's color of 2020 should have been? Navy. Because of my blue eyes, it would highlight them.
What do you most often disagree with others about? Politics and approach to education.
What can't you leave alone? Nothing.
What must you adjust or fix when you see it done incorrectly? Everything.
What calms you down? Listening to my favorite music (country, gospel, Adele, Sam Smith), reading books and all different kinds of puzzles: Sudoku, jigsaw puzzles, and I do crossword puzzles in Polish.
Comfort food: Bread and cheese.
Vice snack: Lady M cake.
Most impressive dish you make: I have never cooked in my life.
What food would you never eat? If I avoid any food, it is for health reasons, but I would try anything.
What do you foresee as the top beauty trends for 2020? I don't believe in trends in beauty. Some of the most effective products and technologies are ones that I have been using for years (LED has been in my treatments since the 90s!), and some have been used for centuries. I think many trends in beauty bring more harm than good.
What product in your domain is misunderstood and should be a best seller? I think of Dior Capture Totale Cellular Lotion Serum as an enhanced toner. I think this step is misunderstood as a second step of cleansing, when it really should be thought of as the first step in cleansing, It balances the pH of the skin and allows other products to penetrate the skin better. I also think that the name is a bit confusing in the U.S. market, and therefore misunderstood.
What product in your domain is currently your favorite (understanding that this could change all the time)? Dior Capture Totale Super Potent Serum. I have been using it for the past three months, and it has really made a difference. The science behind it is what I love and believe in, which is all about reenergizing our cells. We never lose cells, but our cells lose energy over time, and all of my treatments are about using light and sound to reenergize them. Dior uses a floral complex with a special vector delivery system. The serum contains the most concentrated form of the complex, and I use it with the cream. It feels great and keeps my skin hydrated. I have received so many compliments and miss it if I don't use it.
If you won the Powerball tomorrow, what are the first five things you would do (after, of course, donating the majority of it to your top charities)? I would fund my skin-care line, make sure that my nephew's and daughter's education (and any other needs) are taken care of, take a year to travel the world with my family and close friends, open big studios in Nashville and London, and live the rest of my life in gorgeous hotels.