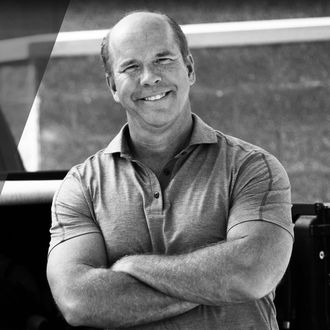 John Delaney.
Photo: John Delaney for President
The 2020 presidential just got significantly less swole.
On Friday, businessman, thumb, and former Maryland congressional representative John Delaney announced he was ending his presidential bid. A statement on his campaign website said that support for Delaney, who had plateaued at around one percent in most national polls, is "not sufficient to meet the 15% viability in a material number of caucus precincts."
"It has been a privilege to campaign for the Democratic nomination for President, but it is clear that God has a different purpose for me at this moment in time," Delaney began a 20-tweet thread.
Delaney was one of the innumerable, indistinguishable centrist men who threw their faded baseball caps into the ring for the 2020 Democratic primary. His campaign slogan was "Real Solutions, Not Impossible Promises," and he opposed progressive policies like Medicare for All (he also reportedly has as as much as $3.2 million of his estimated $280 million fortune invested in "health care companies and funds with health industry holdings"). As the New York Times notes, his was also one of the longest presidential campaigns:
Anthony Scaramucci was working in the White House when Mr. Delaney began his campaign. The white supremacist rally in Charlottesville had not happened yet. Robert Mueller's investigation was less than three months old.
Besides his staunch commitment to the status quo, Delaney was also known for being extremely buff. Here he is doing chin ups for America.
Here he is doing an ab roller for America.
And here he is doing a box jump for America.
So wrap yourself in an impossibly tight fitting polo shirt and pour out a tub of protein powder for the John Delaney presidential campaign: you were around for a long time, and we didn't ever really know what you were about. Slide away now, sweet prince.