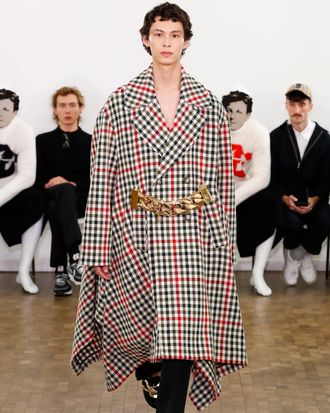 Photo: Estrop/Getty Images
If you haven't set a New Year's resolution yet, or have already broken the ones you made, here is a modest proposal: Make it your business to go into the new decade wearing a giant gold chain, like the ones seen on the Fall 2020 menswear JW Anderson runway. If you're not looking to the menswear shows for fashion cues, you're really missing out. The collection was full of sweeping opera coats in various colors and patterns, ruffled tops embellished with pearls or chains, and loafers with massively oversize gold chain links on them. Clothes for the men who lunch.
The chains themselves feel like a welcome change from the previous decade's prevailing trend in jewelry: pieces so dainty they can only be paired with a stick-and-poke tattoo. These are substantive, heavy, unmistakable. Putting a chain across the front of the coat feels like a riff on aristocratic white-tie suits from the early 20th century. But the thickness of the chain is similar to '80s and '90s style, as immortalized by Run DMC, early Lagerfeld-ian Chanel, and of course, the Rock.
The JW Anderson show presents a choose-your-own adventure of chains. There's the comparatively delicate half-necklace, there's the more daring overcoat chain, and the most eye-catching (or is it troll-y?) loafer chain. Choose wisely, but please choose one. It's a good look.