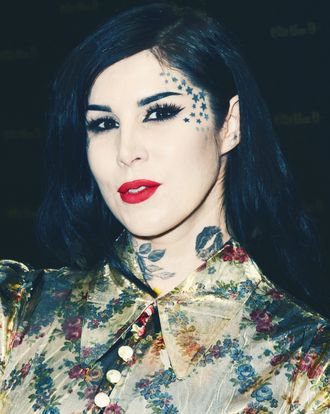 Photo: Vivien Killilea/Getty Images for Kat von D Beauty
Effective today, Kat Von D will no longer be in the beauty business. After 12 years, she has sold her stake in Kat Von D Beauty, the exceptionally popular long-wear, vegan, cruelty-free makeup line that she created in partnership with LVMH beauty incubator Kendo. In an official press release, she says:
This past year has been one of great change for me. As many of you know, I gave birth to my beautiful baby boy, launched my vegan shoe line, and am now busy prepping to release my long-awaited album in the Spring, followed by an international tour! As much as I wish I could balance all of this, on top of continuing my makeup line, it has become clear to me that I just can't do everything at the maximum capacity.

 

With that said, I've decided to step down as founder (and from all other capacities) of Kat Von D Beauty, and sell my shares of the brand, turning it all over to Kendo, my partners for the past 12 years.  This was not an easy decision, but after careful consideration, I decided I wanted the makeup line to continue to thrive and grow, and Kendo is primed to do just that."
She will no longer be involved in it in any capacity, and the line will now be fully owned by Kendo (who also produce Fenty Beauty and Marc Jacobs Beauty). It will also be rebranded as KVD Vegan Beauty.
In the past few years, Kat Von D has been the center of beauty drama. She's had well-publicized fights with Jeffree Star, allegedly disinvited a Trump supporter to a party, and posted a video clarifying her stances on Nazis and vaccines. Thank you, Kat Von D, for all of the exceptionally strong liquid eyeliner.