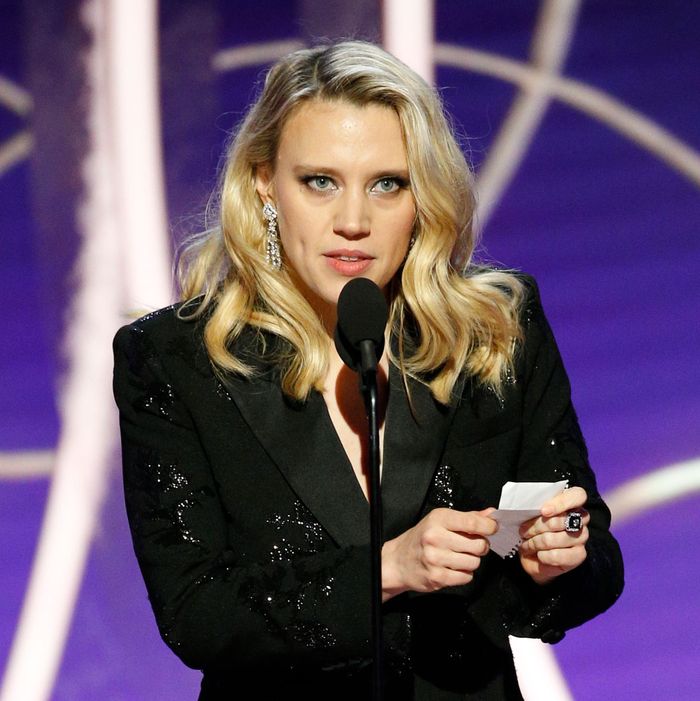 Photo: Handout/2020 NBCUniversal Media, LLC via
In 1997, actress and comedian Kate McKinnon was lifting weights in her mom's basement and wondering: "'Am I…gay?" In a speech at the Golden Globes this evening, she described her initial realization like "doing 23 and Me and discovering that you have alien DNA."
The comment was part of an introductory speech she gave for her fellow comedian, Ellen DeGeneres, who was this year's Carol Burnett Award winner. The SNL actress (who occasionally impersonates DeGeneres on the show) touched on what the comedian had given her over the years, beginning with jokes — "converse high-tops," a "sweater with a goat on it" — but went on to explain that DeGeneres had also allowed her to discover a "sense of self." McKinnon went on to describe how seeing the comedian on screen in her self-titled sitcom had helped her come to terms with her own identity as a gay woman:
"In 1997, when Ellen's sitcom was at the height of its popularity, I was in my mother's basement lifting weights in front of the mirror and thinking, 'Am I…gay?' And I was," McKinnon said. "And I still am. But that's a very scary thing to suddenly know about yourself. It's sort of like doing 23 and Me and discovering that you have alien DNA. And the only thing that made it less scary was seeing Ellen on TV.




"And if I hadn't seen her on TV, I would have thought, 'I could never be on TV. They don't let LGBTQ people be on TV.' And more than that, I would have gone on thinking that I was an alien and that I maybe even didn't have a right to be here. So thank you, Ellen, for giving me a shot at a good life."
It was, in short, a perfect speech. And after all the mess about picking awards show hosts in the past several years, perhaps McKinnon — who is clearly capable of giving a speech that's both funny and heartfelt — should be next up for the job.