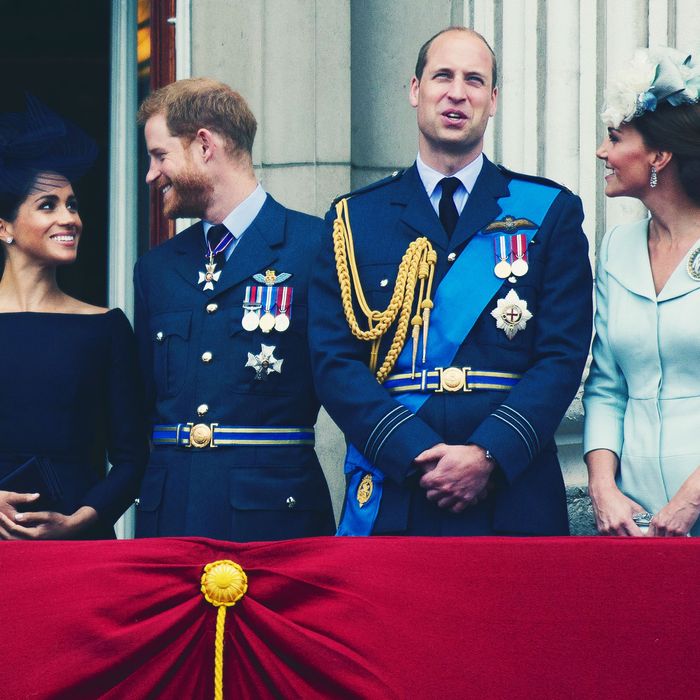 Happy birthday, Kate (far right).
Photo: Shutterstock
Happy birthday to you,
Happy birthday to you,
Happy birthday to — Oh my God, wait, who cares? Prince Harry and Meghan Markle said they are "stepping back" from their roles as "senior" members of the royal family, becoming financially independent, and splitting their time from now on between the U.K. and the U.S. And apparently the queen didn't know about it beforehand, and now she seems mad as hell!!!!
That, I'm sorry to say, is probably the only "Happy Birthday" song Kate Middleton will be hearing today on her 38th birthday.
This year, you see, Middleton's birthday (January 9; she is, according to Astrotheme.com, a Capricorn sun with a Cancer moon and Taurus rising) falls the day after her in-laws made a major personal announcement that's all anyone can talk about. Happy birthday, Kate.
Maybe it's fine. Maybe she's one of those people who isn't really into birthdays anyway, and 38 is not a major milestone, so she's okay with the shocking royal news dominating the conversation. "Hey, if nobody notices it's my birthday, that means I get to stay 37 for another year, haha," she might joke to a friend. Or maybe she wanted the spotlight to be on her for a while. Not for long, just for a day. Maybe she was looking forward to all the nice things people would say about her on her birthday, and now, instead, she has to listen to everyone talk about this palace-shattering new development. "This was supposed to be Kate's day," she might whisper to herself in the mirror.
We simply don't know.
Kate was able to spend some time last week celebrating with friends in Norfolk, according to People. And on Thursday, Kensington Palace posted a new photo of her on Instagram with the caption, "Thank you everyone for all your lovely messages on The Duchess of Cambridge's birthday!"
In the replies, Harry and Meghan's official royal Instagram account, @sussexroyal, wrote, "Wishing a very happy birthday to The Duchess of Cambridge today!" with a cake emoji and a heart emoji.
Anyway, happy birthday to Kate Middleton, and have you heard the news about Meghan and Harry?