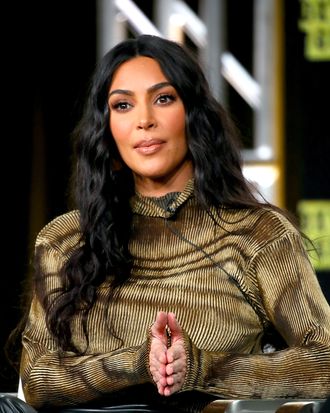 Kim Kardashian West.
Photo: David Livingston/Getty Images
Kim Kardashian West, would-be (will-be?) lawyer, took up the criminal justice reform banner a few years ago: She has lobbied her husband's buddy, President Donald Trump, on behalf of nonviolent offenders serving life sentences without the possibility of parole, and she has also been working on a documentary chronicling her new cause. Entitled Kim Kardashian West: The Justice Project, it is set to premiere on Oxygen in early April. But you can watch the trailer now, because she shared it on Twitter yesterday.
"There is a mass-incarceration problem in the United States," Kardashian West says in the clip, looking soberly into the camera. "I went into this knowing nothing, and then my heart completely opened up."
The documentary will reportedly focus on four inmates — Dawn Jackson, Alexis Martin, Momolu Stewart, and David Sheppard — whose cases Kardashian West and her legal team have taken on. Kardashian West, it bears noting, is not an attorney yet; as she explains in the trailer, she began receiving letters from inmates detailing "the circumstances of their lives," presumably after she went to bat for Alice Marie Johnson in 2018. Johnson was imprisoned in 1996 on money-laundering and drug-conspiracy charges. At the time, ten of the other people involved reportedly accepted deals to testify against Johnson in exchange for dramatically reduced sentences. Meanwhile, she received life in prison without parole, plus 25 years — even though Johnson maintains that she never made drug deals or sold drugs herself, just acted as an intermediary.
After hearing about her case, Kardashian West met with Trump at the White House: He subsequently pardoned Johnson, who went on to star in Kardashian West's shapewear ads. She also features in the documentary.
At the time, many people voiced skepticism at Kardashian West's, ah, unexpected decision to get involved with prison reform. Still, in May 2019, BuzzFeed reported that she had helped free 17 federal prisoners within three months, and it's hard to scoff at her for doing something meaningful with her considerable resources and celebrity. On Saturday, when asked at a promotional event for the doc if she felt like criminal justice reform was her "calling," Kardashian West responded, "I do, I really do," adding: "I don't see how I could just say no to someone that really needs help if I know that I can help them."
Kim Kardashian West: The Justice Project premieres on Oxygen on April 5, at 7 p.m. Eastern and Pacific time.