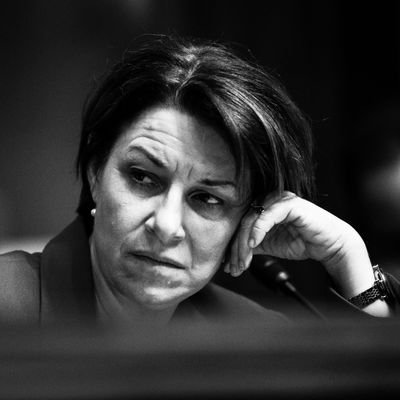 Photo: Anna Moneymaker/Getty Images
Throughout her career, Minnesota senator and presidential candidate Amy Klobuchar has bragged about how, when she headed up the Hennepin County Attorney's Office 17 years ago, she put the teenage killer of an 11-year-old girl named Tyesha Edwards in prison for life. She trotted out the anecdote during her successful 2006 Senate campaign, and again during a Democratic presidential debate last fall. But an Associated Press investigation into the case, published Tuesday, suggests a very different story. In this version, Edwards's death was a tragic accident, the result of a stray bullet flying into her family's home, not the work of a dangerous murderer. And it's likely that Myon Burrell, who at 33 maintains his innocence and has refused all plea bargains, didn't even fire the bullet that killed her.
After reviewing police records, court transcripts, and interrogation tapes, in addition to interviewing dozens of people connected to the case, the AP found that the case against Burrell was extremely thin. It relied substantially on the testimony of one of Burrell's teen rivals, who gave conflicting accounts of the shooter's identity, which, per the report, was "largely obscured behind a wall 120 feet away." There were no eyewitnesses, and a stunning lack of physical evidence — no gun, fingerprints, or DNA — and Burrell, who was 16 at the time of the 2002 shooting, claims a convenience-store surveillance tape that would have cleared him of all wrongdoing never surfaced.
Additionally, Burrell's co-defendants have confessed to their involvement in Edwards's death, and they all say Burrell wasn't there. Burrell had an alibi that day, but the police reportedly didn't follow up on it. One of Burrell's co-defendants, Ike Tyson, insists that he was the one who pulled the trigger; he says he fired off the rounds with the intention of scaring a member of a rival gang, and that it wasn't until later that evening he learned of Edwards's death. "I already shot an innocent girl," Tyson told the AP. "Now an innocent guy — at the time he was a kid — is locked up for something he didn't do. So it's like I'm carrying two burdens."
Klobuchar's campaign spokesperson replied to reporters' requests for comment, explaining, in the AP's words, that "Burrell was tried and convicted of Tyesha's murder twice, and the second trial occurred when Klobuchar was no longer the Hennepin County Attorney. If there was new evidence, she said, it should be immediately reviewed by a court."
It's worth nothing that in her eight years as county attorney, cops and county sheriffs killed 29 civilians. Klobuchar's office did not criminally charge any of the officers involved.
Since the AP report was published, several civil-rights groups, including the Minneapolis NAACP, Black Lives Matter Twin Cities, and Communities United Against Police Brutality, have called on Klobuchar to suspend her campaign. Leslie Redmond, president of the Minneapolis NAACP, said during a press conference on Wednesday, "This isn't just a situation that happened to the Central Park Five … Young people, young adults were given life sentences to rot away in prison." Redmond added, "This benefits no one — however it does benefit politicians who use the criminal justice system to benefit their political careers. Enough is enough."
Edwards's stepfather Leonard Winborn told the Minnesota Spokesman-Recorder that he suspects people exploited his family's tragedy to advance their careers. "I think my family got hoodwinked," he said, adding that when he attempted to call Klobuchar's office after reading the AP story, he was told to reach out to the Hennepin County Attorney's Office.