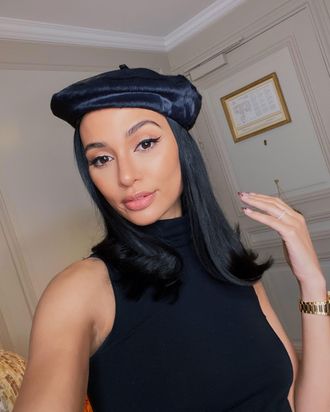 Photo: Courtesy of Kristen Noel Crawley
Kristen Noel Crawley is well known by her initials, KNC, the acronym and the beauty brand now synonymous with those lip-shaped jelly lip masks and star-shaped under-eye masks you've seen all over Instagram.
In addition to brightening Stateside faces with her self-named line, KNC Beauty, Crawley is also the owner of an aspirational Instagram for beauty lovers. It's a case study on how to take an exceptional product-hold pic, what the perfect cat eye truly looks like, and how to get ready glamorously as you exit a bathroom.
Crawley recently did all of the above before attending the Dior Homme fragrance dinner in Paris, where she was served the world's fanciest baked potato and wore a beret in a refreshingly appropriate setting (Paris, France, middle of winter). The Cut quickly caught up with the founder beforehand to talk about using four face masks a night, face rolling, hydrating, and spicy chips.
What's your nighttime beauty routine?
I start cleansing using Clé de Peau Beauté Softening Cleansing Foam. After cleansing, I exfoliate with the iS Clinical Tri-Active Exfoliating Masque (three times a week), then mask using my KNC beauty eye masks and the Sisley Black Rose Face Mask. I exfoliate my lips using my new KNC beauty Supa Scrub and follow that with a lip mask. After my masking is done, I use the hyaluronic-acid serum from Barbara Sturm.
I follow that with my Dior Capture Totale Serum and eye cream.
After that, I use my Joanna Czech face roller — 20 strokes on each side. Last step is my Supa Balm for my lips in OG Rose.
What time do you go to bed?
I try to get to bed before midnight every night.
What three-to-five products always make the cut for your carry-on?
Obviously my Supa Balm, Byredo Rinse-Free Hand Wash (I hate to use airplane-bathroom water), Dior Capture Totale Eye Cream, Mason Pearson hairbrush, and Joanna Czech face roller.
You feel a cold coming on. What's your plan of action?
Neti pot; steam showers; loads of hot water with lemon, honey, and fresh ginger; and lypo-spheric vitamin C three times a day.
What color are your nails currently and why?
Currently, I have a brown ombre tip with gold shimmer and a tiger-stripe overlay. I chose this because I knew I had a lot of brown and black outfits for fashion week, and I wanted my nails to go with everything.
Okay, rapid-fire round:
Smoky eye or cat eye?
Cat eye, always. I love experimenting with colored liners and graphic shapes. I've never been a big fan of smoky eyes for myself.
Matte lips or glossy lips?
Glossy all the way!
What do you listen to while getting ready?
Anything from Frank Ocean.
What's the last thing you binge-watched?
Both seasons of You. Disturbing.
What's on your phone's lock screen?
A photo of my youngest son when he was a baby.
What's the last text you sent?
Flight info to my driver in L.A. 🤣
How do you like your water?
Naturally alkaline spring water, room temp. I hate cold water!
And last, what's your favorite snack?
Dang sticky-rice chips in sriracha flavor.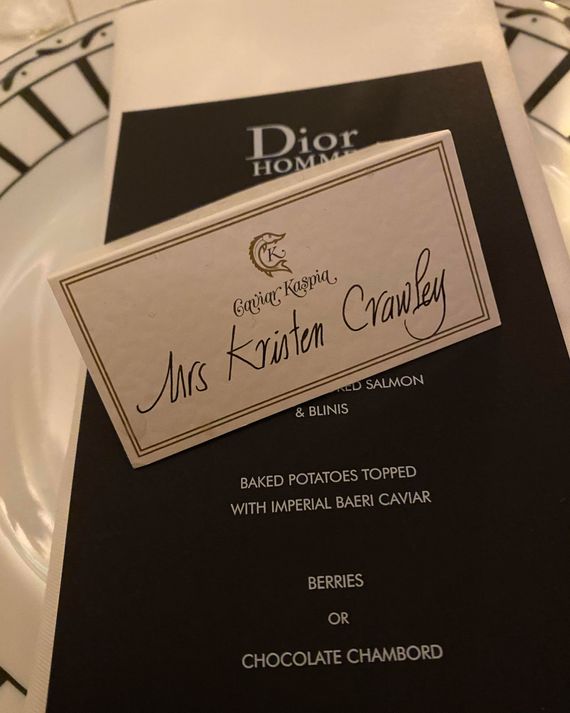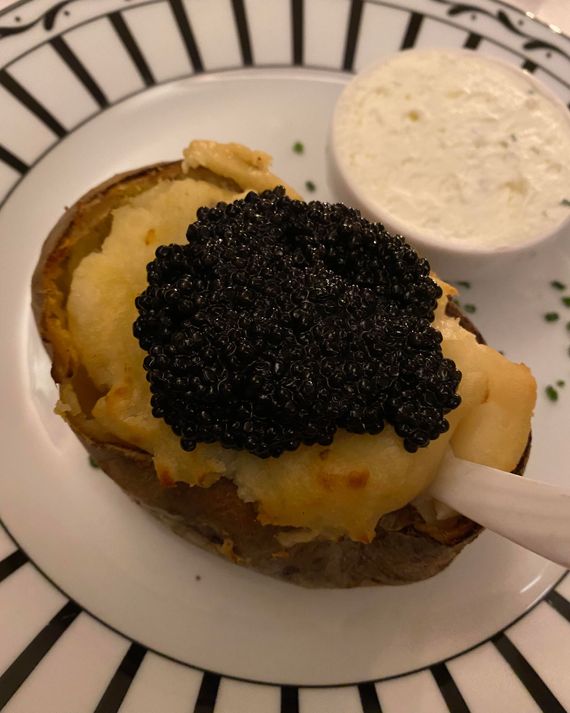 If you buy something through our links, New York may earn an affiliate commission.