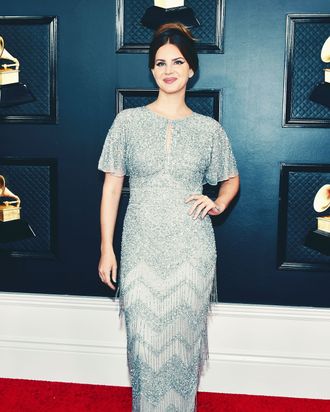 Photo: Amy Sussman/Getty Images
When Lana Del Rey first came on the scene around a decade ago, she was known for her romantic, 1950s Americana aesthetic: Daisy Dukes, bustiers, and lots of American flags. Her style has evolved with time: She did a less sexy, more housewifey thing for a bit, and then she dabbled in a flower-child look for several years. That last period closed with what was Del Rey's most high-fashion era, when she was introduced as the face of a Gucci campaign in 2019 after being dressed by Alessandro Michele for several red carpets in 2018. During this era she embodied his nostalgic, mishmash aesthetic, echoing the sort of music she was making at the time.
But in recent years, as evidenced by a slew of paparazzi photos and concert looks, she has pivoted to what seems to be a more organic approach to dressing: a sort of casual, midwestern-mommy way of styling herself. Think Keds, floral knitwear, and bootcut jeans. It's decidedly American, but it's not Americana.
In a world where global pop stars are never spotted without a label on the streets or couture on the carpet (often courtesy of an endorsement deal), it's notable that the singer often eschews high fashion and designer brands for the types of clothing and accessories one might buy at a Target or T.J. Maxx. It's an aesthetic choice some fans have dubbed her 'Maxxinista period.'
And at last night's Grammys, Del Rey really leaned into her Maxxinista sensibility, telling a red carpet interviewer that she got her dress "at the mall" right before the event. "I saw this, and I loved it," she explained, as her influencer-cop boyfriend looked on. The singer told another interviewer that she'd had it tailored at the waist, but other than that, the Aidan Mattox gown, which retails for $600, is indeed, a straight-off-the-rack item:
It was an extremely Lana moment. She may have professed that she was swearing off American imagery after Trump was elected, but what's more American than buying a last-minute dress from Macy's for an event you're already over?