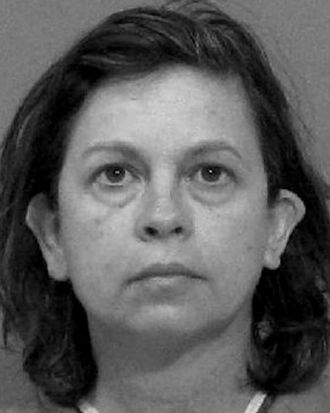 Lana Sue Clayton.
Photo: York County Sheriff's Office
A South Carolina woman says she never intended to kill her late husband when she spiked his drink with eye drops: "I did impulsively put the Visine in Stephen's drink, but I just did it to make him uncomfortable," Lana Sue Clayton, 53, said in court on Thursday, according to the Rock Hill Herald. Pleading guilty to voluntary manslaughter, the Veterans Affairs nurse alleged that her husband, Stephen Clayton, had been abusive and that she simply "snapped" one day, dosing his glass of water to make him sick.
"I am so sorry," Lana Sue reportedly said. "I never meant for this to happen."
Stephen was found dead on July 21, 2018, in his home in a suburb of Charlotte. It initially looked as though he'd fallen down the stairs, but according to the Herald, an autopsy pointed to poisoning by a chemical called tetrahydrozoline, a common ingredient in eye drops. If ingested, tetrahydrozoline can cause drowsiness, slow breathing and heartbeat, and hypothermia. It can also cause a person to stop breathing, or become comatose.
Lana Sue reportedly admitted to detectives that she had surreptitiously slipped her husband a "small" amount of Visine. Her attorneys said she did it only once, according to the Herald, although investigators believe the poisoning occurred over the course of three days. York County authorities first charged her with murder and unlawful malicious tampering of food, downgrading the charge as part of a plea deal. Prosecutors asked for the maximum, 50-year sentence, arguing that Lana Sue was after Stephen's money — which reportedly included their $1 million home, a replica of George Washington's Mount Vernon estate, and an additional $1 million in assets — and hatched a plot to kill him. The judge sentenced her to a 25-year prison term.
Although Lana Sue has no criminal record to speak of, she did shoot her husband in the back of the head with a crossbow in 2016. Both of them confirmed at the time that it had been an accident.