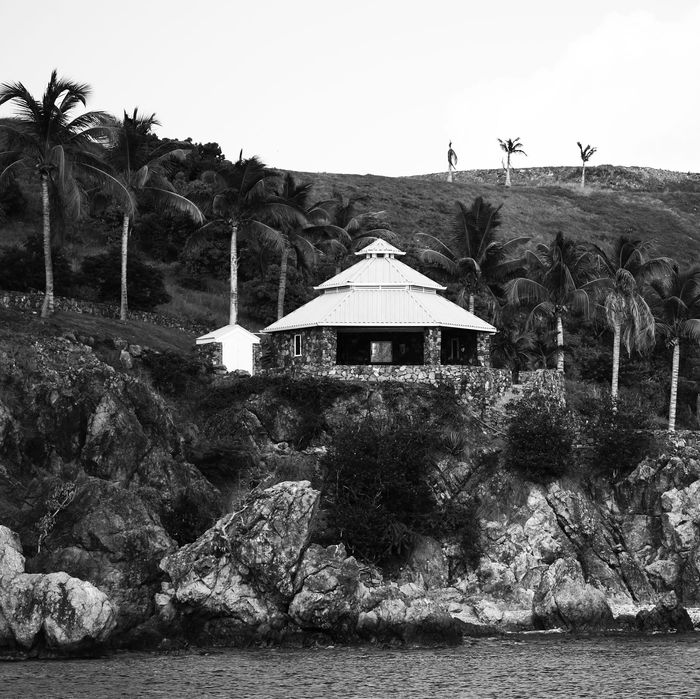 Photo: MARCO BELLO/Bloomberg via Getty Images
A lawsuit filed today against the estate of Jeffrey Epstein has revealed disturbing new evidence about the dead billionaire's decades-long, large-scale trafficking and abuse of young girls on his private Caribbean island. Though some of the information within has been previously reported, the lawsuit, filed by U.S. Virgin Islands attorney general Denise N. George, "significantly expands the scope" of what we know about Epstein's horrifying conduct on "Pedophile Island," which the lawsuit called "a trafficking pyramid scheme."
"Epstein clearly used the Virgin Islands and his residence in the U.S. Virgin Islands at Little Saint James as a way to be able to conceal and to be able to expand his activity here," George told the New York Times. Her office is suing Epstein's estate in order to seize his property in the territory, including the now notorious Little Saint James island as well as a second island and shell companies they claim Epstein established there to conceal his elaborate sex-trafficking enterprise. They are hoping to prevent Epstein's executor's proposal that his vast assets, estimated at some $500 million, be turned into a fund for victims that would force them into confidentiality in order to receive any compensation. The executor did not respond to the Times for comment.
The USVI suit reveals explosive new details about the sheer number of young girls abused by Epstein, their age, and his coercive and violent tactics, which lasted well beyond what has been previously reported. Here are some of the most damning allegations:
Epstein was trafficking victims through his private island as late as 2018.
Epstein was found dead in his jail cell in August of 2019, after being charged in July with exploiting dozens of victims in New York and Florida (he and his lawyers vigorously denied all accusations). But those charges did not refer to any alleged behavior beyond 2005; the new filing claims that Epstein was trafficking victims to his island as late as 2018. In July 2018, Epstein refused to permit an investigator from the Virgin Island's Department of Justice performing a routine sex-offender-registry check to enter Little Saint James, "claiming the island's dock was his 'front door.'"
Epstein kept a digital database to track hundreds of victims.
The suit alleges that Epstein had "a ring of associates," referred to as John and Jane Does, who facilitated and participated in his abuse of victims. They allegedly helped field him a mass amount of young girls through false promises of career and financial help, including South American models, who were brought across international and state lines on fraudulent modeling visas. On a "computerized database," per the suit, he tracked the girls' movements and availability.
Epstein was seen with victims who appeared as young as 11 years old.
In 2018, the suit claims, air traffic controllers in the Virgin Islands reportedly observed Epstein leaving the territory on his private jet with "girls who looked as young as 11," reports the Times.
Epstein is accused of holding victims captive.
The AG's lawsuit brings up a previously reported account of a 15-year-old girl who tried to escape by swimming away from the island, but was intercepted and forced to remain by Epstein, who confiscated her passport. But it also claims that another victim who was forced to perform sex acts also tried to escape and says Epstein "suggested physical restraint or harm if she failed to cooperate."