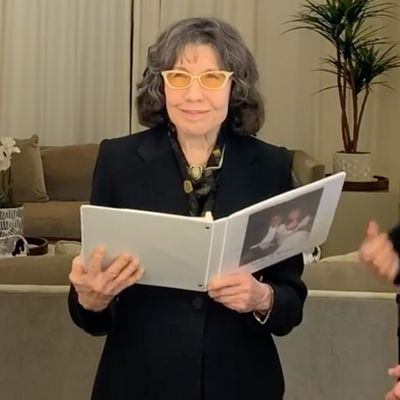 Photo: kathygriffin/Instagram
In a world inundated with celebrity-wedding content, I have finally come across one piece of charming, useful, even enviable information: Lily Tomlin officiated Kathy Griffin's wedding to the dude she loves.
The comedian confirmed on Twitter that she married TV personality Randy Blick in the early hours of 2020. The two have been dating since September 2011, and to commemorate their going the distance, Griffin got married in the same gown she wore to their "first formal date." Griffin also posted a picture of herself and Blick looking extremely fine at Kris Jenner and Kourney Kardashian's New Year's Eve party, joking that "they didn't technically know it was an engagement party for us, but boy, they spared no expense!"
But to return to the part I'm most enamored with: Ms. Tomlin. The 9 to 5 actress wore an understated pair of orange cat-eye glasses and a sharp black suit to the event. In a video Griffin posted to Instagram of the ceremony's first few minutes, Tomlin is like the calm eye of the storm, waiting patiently for everyone to get their nervous joshing out of the way before proceeding with her heartfelt speech. "What was supposed to be a shallow, 'toot it and boot it' one-night stand has grown and flourished into something far more meaningful," Tomlin said. "They stayed together. Then they couldn't stay away from one another."
Griffin tweeted that she will post the full (edited) 14-minute video of the ceremony shortly. You know I will watch Lily Tomlin in absolutely anything.