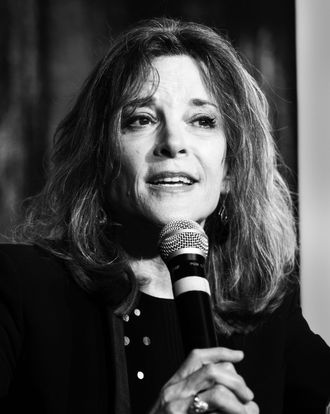 Photo: Natasha Moustache/Getty Images
Marianne Williamson — self-described "bitch for God," defender of yoga girls, vanquisher of dark psychic forces — has finally dropped out of the 2020 Democratic presidential-primary race. In a message to supporters this morning that was later posted to her website, Williamson said she is suspending her campaign.
"I stayed in the race to take advantage of every possible effort to share our message," she wrote. "With caucuses and primaries now about to begin, however, we will not be able to garner enough votes in the election to elevate our conversation any more than it is now. The primaries might be tightly contested among the top contenders, and I don't want to get in the way of a progressive candidate winning any of them."
Williamson made significant, strange waves over the summer, when she first appeared on the primary debate stage, coining some of her best-loved, deranged catchphrases — including "Girlfriend, you are so on," her love note to New Zealand prime minister Jacinda Ardern. While she advocated for many of the same progressive policy reforms as her left-leaning colleagues, including getting corporate money out of politics, she never really fount a foothold in the polls or her way out of controversies like her confusing comments on vaccines and her tweeting a Charles Manson hoax. Williamson has quietly continued to maintain her lifestyle-and-wellness empire in the background of her political campaign, and she will no doubt return to it now. She recently appeared with Gwyneth Paltrow at the Goop Summit (which makes sense, as she was the Gwyneth Paltrow of the presidential race).
No word yet on who will get the guru's spiritual endorsement. "To the remaining Democratic candidates," she said, "I wish you all my best on the road ahead. It was an honor being among you. Whichever one of you wins the nomination, I will be there with all my energy and in full support." And as always, she believes "love will prevail." Trust Williamson to drop out on the day of a lunar eclipse, as she ascends to a higher plane of celestial being.