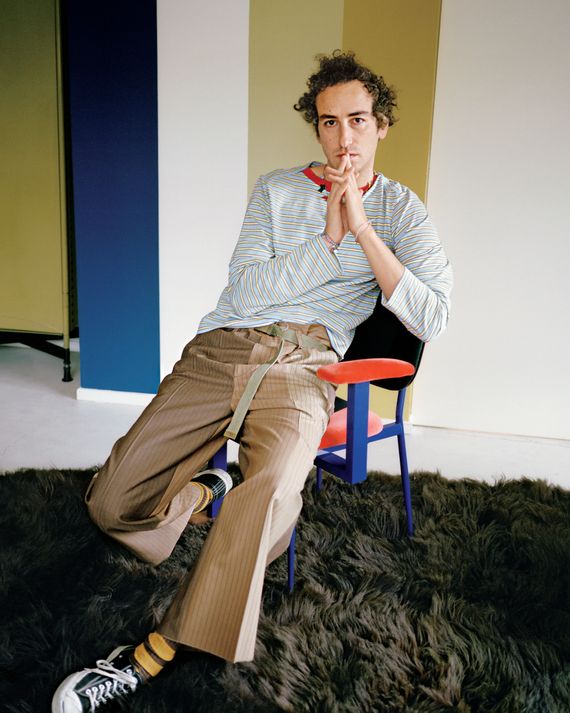 Francesco Risso.
Photo: Alessandro Furchino Capria
For years, Marni was kept like a secret. Founded by Consuelo Castiglioni in 1994 and run with her husband, Gianni, the label telegraphed that its wearers were members of a club more concerned with being interesting than traditionally elegant, with being artistic over austere. Now in the hands of Francesco Risso, 37, Marni is a colorful corrective to fashion's pervasive self-seriousness. In three years, Risso, who cut his teeth at Prada, and his boyfriend and lieutenant, the veteran designer Lawrence Steele, have steered the ship in a strange, sometimes silly, but often entirely charming direction.
So much of fashion is so bleak and serious, so unfun and unfunny. Why not yours?
Francesco Risso: Mine was quite a challenging childhood. I was born on a boat, and that was already quite a lot. But my father wanted to live that life, and my mother went with him. Those four years on the boat imprinted something in me, a bit of adventurous DNA. And then we moved, everybody together, into the same house. My brothers, my sisters, my grandmother, my grandfather, the ex-wife of my father.
That sounds like a lot.
F.R.: It was too much. But that's where I discovered that I wanted to be an artist. I started cutting clothes from my family's wardrobe, which sounds a bit psychotic when I talk about it, but it actually was, to me, like a drug. I was so into it. I would connect skirts with pants and everything, and I would have new clothes.
And you went off on your own quite early.
F.R.: I wanted to be independent since I was really young. There was this dependent sort of vibration with my family, and my brothers and my sisters and my grandfather. Everybody was so busy and so, like, in their own thing — I got a lot from that. At 16, I moved away, and I went to Florence. That gave me a lot of strength. When we're talking about that youth, I don't know — I think I'm always attracted by that instinct that comes when you're a child. You have that fantasy that's so natural and so instinctive, and that's quite immediate and precious.
Lawrence Steele: That playfulness that Francesco has also comes in the kinds of people he wants to surround himself with. It's like a good party: At some point, you're in it, you're in that vibe. It's the quality of the brand that attracted Francesco to Marni.
That's a difficult kind of energy to capture and then sell to people. I wonder how hard it has been for you to convince everyone — from Renzo Rosso, who owns the group that owns Marni, to the bosses here, to the customer — that this is something they have a place in as well.
F.R.: It happened through that energy. I don't think people want to be taken by bullshit. People want to be taken and transported by an experience, rather than be told, "Okay, we're making 20 T-shirts with Marni logos on them; we're selling those to you — buy it."
Tell me about the relationship between you two. It strikes me as a bit yin and yang.
L.S.: Definitely. I mean, for a lot of different reasons. He's wild, and I'm quite contained. I'm sort of a liaison between the design team and the management. I sit in on the meetings that are more numbers-oriented or long-term-strategy-oriented, or people who just don't really get, necessarily, what the creative team does. And I have been on the creative side and had teams before. I don't know if it's because of my American culture or my military background, somehow it all turns into, like, Yes, I can speak, the general needs to know this and this, and the soldiers are doing this and that. I spend a lot of time with Francesco, as he's working with his team, and just waiting for something to do — which becomes really clear when somebody else isn't able to get it done. Then I'm like, no, this is what I think he meant.
FR: Sometimes I don't know what I mean. Many times!
Was your partnership personal before it was professional?
L.S.: They happened at the same time. It was love at first sight. And then it became, What are we going to do with this love?
When you met, Francesco, you were still at Prada, and Lawrence, you were elsewhere?
L.S.: I had moved my collection to this manufacturer just outside of Milan called Aspesi, where I was doing his collection and manufacturing my collection with him. So I was doing both things at the time. I had probably just shut down my brand. I was actually enjoying a peaceful sort of [life], doing this freelance job, but you know, not working on the weekend, being home by 6:30 kind of thing.
And then in comes the tornado.
L.S.: Yeah. And then in came the tornado in the form of a deer, a baby deer — that's how I actually saw him.
L.S.: Yeah. And then in came the tornado in the form of a deer, a baby deer — that's how I actually saw him.
He's the original @asliceofbambi.
L.S.: He was actually Bambi for me. He refused the name Bambi, and added a slice to it. It was kind of a warning, of what was to come.
F.R.: There's always a bit of darkness there. It's not really a happy story at the end. Better to be clear on that point.
You've been at Marni for three years or so, and it seems to me that people are now beginning to get it.
F.R.: Well, there's a lot of excitement inside because things are going extremely well. And the shops are selling amazingly.
When I think of the old Marni, I think of these balloon dresses — every chic woman in her 30s or 40s, every woman who owned a gallery or was at a gallery, had one of those dresses. I think you're doing Marni in a different way.
L.S.:  It wasn't like we wiped the slate clean and started from zero. But an interesting piece of information is that carryovers are not doing as well as new items grown into the collection. I think the old customer sees the younger customer and realizes there's something going on that's youthful and interesting in the brand.
F.R.: One of the most successful collaborations we've done is with someone who's about 90 years old: Magdalena Suarez. I love that I can make happy someone older or someone younger.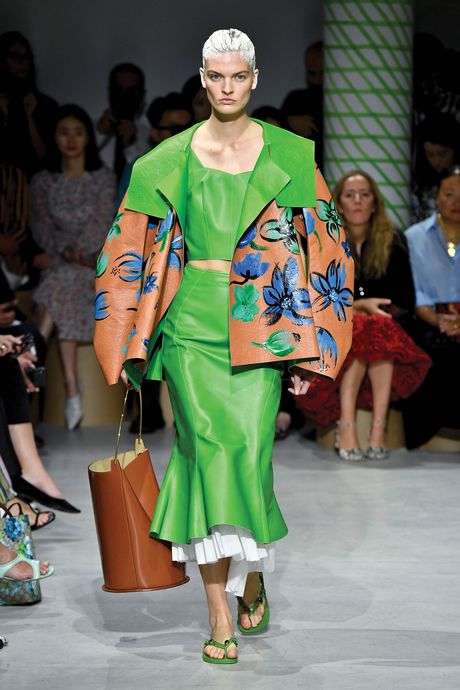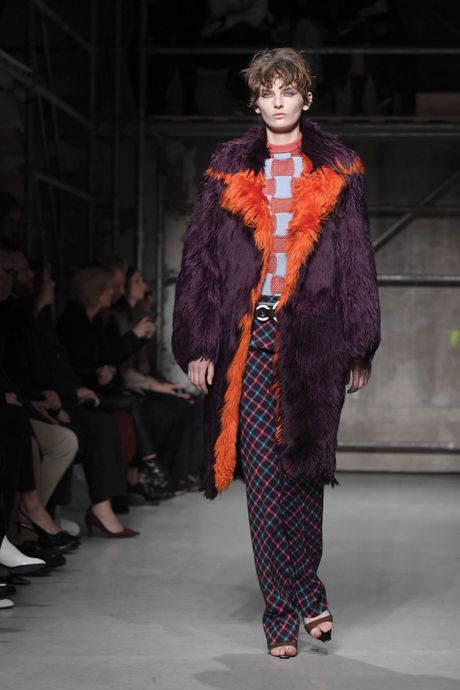 How do you feel now? Different from when you began?
F.R.: Well, to be honest, there's something that wasn't so much in my mind at the time that is now in my mind a lot. Even though I get a bit itchy when I hear the word sustainability — because very few people are completely sustainable — it's something I'm thinking about a lot. I spent my end of the summer crying all over the Amazon; it really got me in my heart. But it's not just darkness. All these people that I know from Brazil, or the young people that I know that are climate activists, are incredible.
Seeing the good energy, and not the bad, seems to be what's different about your approach.
L.S.: And showing that you are not taking yourself, and fashion, too seriously — opening it up.
Why do you think it's so hard for people to think that way? Why do people fall so easily into being stern and serious?
F.R.: I guess we're overwhelmed by shit. We're overwhelmed by darkness. And actually, we have to look into, you know, excluding that darkness being that, knowing that there is — There are political factors that are oppressing our world, but who moves the things is not just the politicians; it's also the strength of the people. And I guess it's hard in this particular moment because we're exposed to a lot, much more than before. We're entered into a new world that is made out of this, like, continuous, humongous, myriad stimulation. And we have to just deal with it.
*A version of this article appears in the January 6, 2020, issue of New York Magazine. Subscribe Now!