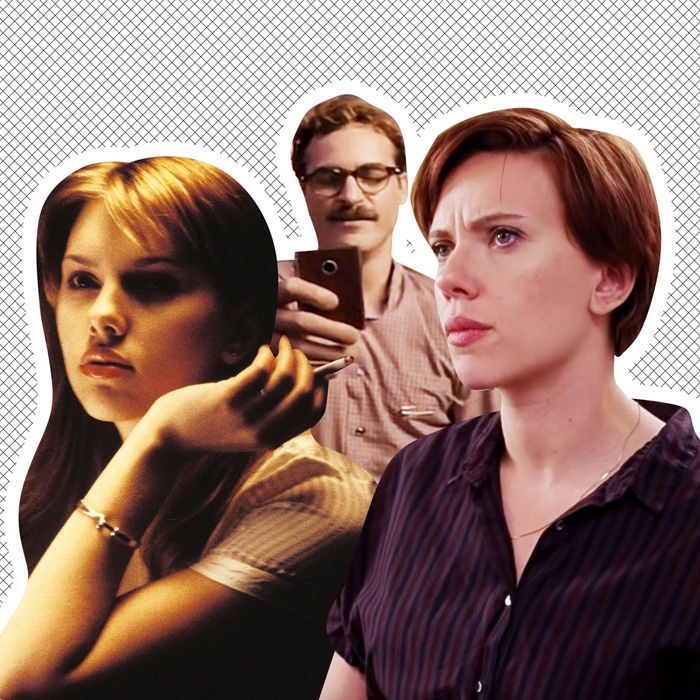 Photo: Shutterstock, Warner Bros. Pictures, Everett Collection
Scarlett Johansson is the star of this year's big, beautiful divorce movie, Marriage Story, which is up for six Golden Globes this Sunday. One of those is a nomination for Johansson, who plays Nicole, an actress and the eventual ex-wife of Adam Driver's Charlie, a New York theater director.
Both actors are great in the movie, but when I sat down to watch Marriage Story, I couldn't shake the feeling that I'd seen Johansson do this before: Her hair was different and now she had a crappy kid, but something felt familiar. I couldn't put my finger on it until one day, while watching a Marriage Story clip of Johansson dancing — set to the sound of a Celebrex commercial — I recalled another bit of weird bopping around she did in Lost in Translation. And then it hit me, the curious through line of Scarlett Johansson's career: She is a frequent vessel for divorce.
In her films, Johansson has all types of marital problems. She has been a divorced person; someone contemplating divorce; someone whose character allows another character to process their divorce. She's a favorite of filmmakers who — perhaps hoping for some catharsis — address their own separations by making a movie about it.
Marriage Story is our most recent piece of evidence. Director Noah Baumbach has denied that the film is autobiographical, but its similarities to his own life are uncanny: His marriage to actor Jennifer Jason Leigh ended after she filed for divorce following the birth of their son. That's basically Marriage Story, which ends up being less about Nicole and more about how Charlie comes to terms with his new, divorced life.
Where have we seen this before? Let me tell you: Spike Jonze's Her, which is about a lonely writer who is sad about his divorce. He buys an AI program named Samantha (Johansson) that he falls in love with. Samantha helps drag our hero out of his depression and accept his separation, and then disappears from the plot. Her is an autobiographical project by Jonze, about — you got it — his divorce, a headline-grabbing split from Sofia Coppola that happened a decade earlier.
This brings us to our third piece of evidence: Lost in Translation. It's the first film directed by Sofia Coppola following her divorce from Jonze in 2003. In it, Johansson is Coppola's surrogate: a quiet, introspective heroine dissatisfied in her new marriage to a daffy, hotshot photographer, whose character, Coppola has said, is based on Jonze.
Why Johansson picks films about bad and sad marriages I couldn't tell you. Likely, it's one of sporadic actorly choices that happen to add up to a trend, like how Emilia Clarke's movie boyfriends always die, or how Robert Pattinson is constantly masturbating in his films. It might have something to do with her own history: Her parents split when she was a teen, and she's been divorced herself (she was, in fact, given the script for Marriage Story in the midst of a separation from her second husband).
Perhaps it's no coincidence that Marriage Story, Her, and Lost in Translation are three of her best performances. When she chooses roles that reflect her own life — which we all know doesn't always happen — she's able to convince us that there's something complex happening even when she's relegated to a supporting role, like in Marriage Story, or is a literal disembodied voice, like in Her. She even does it during the large chunks of Lost in Translation where she just stares out windows. It's possible that the real reason she chooses these roles is simply that she excels in them.