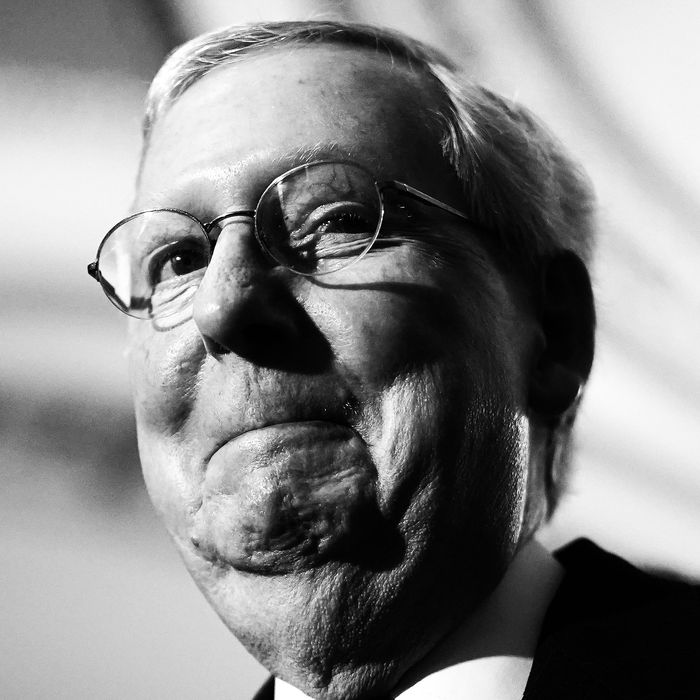 Mitch McConnell.
Photo: Win McNamee/Getty Images
Whether you like it or not, you probably have at least one haunting political comic of Mitch McConnell seared into your brain: perhaps a rendering of him as an animal to which he bears an uncanny resemblance, or maybe one of him as "Moscow Mitch" with hammer-and-sickle glasses. And if the drawing exists is in your mind, well, it's also in the Republican senator's possession.
In a new Washington Post report about the extreme lengths McConnell will go to in order to win, reporter Ben Terris opens with a detail about one of the senator's truly deranged habits: McConnell and his staff save every political comic of the senator that they come across. According to the report, he has more than 650 of these drawings, either hanging on the walls of his Senate office or tucked away in an archive.
Though McConnell declined to comment on this hobby for the article, he has apparently vocalized a desire to compile all the drawings into a "coffee-table book." This reported desire certainly prompts some questions — mainly, whom does the senator envision as the target audience? Also, what would compel someone to celebrate every unflattering rendition of themself?
His spokeswoman, Stephanie Penn, offered one possible explanation: "There were a ton [of drawings of McConnell] during the Obama administration, and as you can imagine, in the age of Trump there have been a lot of insane ones. But he has a good sense of humor about it. Better to have people talking about you and making fun of you than not talking about you at all."
I personally have to disagree with that sentiment, but whatever you have to tell yourself, I guess!