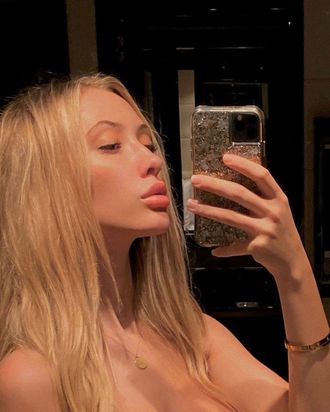 Photo: @lilearthangelk/Twitter
As massive bushfires rage on in Australia, 20-year-old model and online sex worker Kaylen Ward says she raised over half a million dollars in just three days by offering to send nudes to anyone who sent her proof that they had donated $10 or more to bushfire relief organizations.
"I'm sending nudes to every person who donates at least $10 to any one of these fundraisers for the wildfires in Australia," Ward tweeted on Friday, alongside a censored nude photo of herself, and a list of suggested charities like the New South Wales Rural Fire Service and the Australian Red Cross.
"Every $10 you donate = one nude picture from me to your DM. You must send me confirmation that you donated."
Almost immediately, Ward's Twitter DMs were flooded with messages. She told BuzzFeed News that her in-box was so full that she had to hire a team of four people to help her sort through them, verify which donations were legitimate, and send out the promised nude. By Monday, the post had gone viral, getting over 73,000 retweets and, according to Ward, raising roughly $700,000. She now calls herself the Naked Philanthropist on social media.
"I was seeing all the posts on Twitter about the Australian fires and I was really concerned there wasn't a lot of media coverage and not a lot of people donating," Ward told BuzzFeed News.
Although her original post is still up on Twitter, Instagram, which has more stringent content guidelines, took down Ward's account, though she's denied violating any of its rules. Ward also tweeted on Sunday that, because of her tweet, her family had disowned her, and the guy she was seeing won't talk to her, "But fuck it, save the koalas."