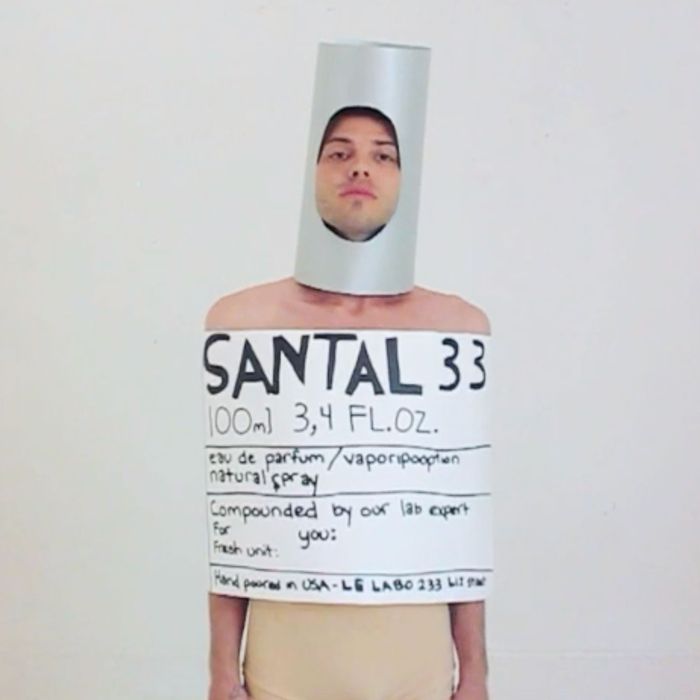 Meet Mur. Mur has a last name, but he's an artist and he prefers going only by his first, which does have a memorable ring to it, so, respect. The art Mur creates is of many forms. Musical composition is his main focus, but he also performs and illustrates (the Cut's Matthew Schneier was recently Mur-ed for a Nordstrom event). His Instagram feed displays his prolific talents, including a video he posted last May. Wearing only a pair of Spanx, Mur stood, eyes aimed at the camera as a piano began playing a rapid intro. Then he started to sing.
"There's a scent that's hard to swallow / It's called Santal by Le Labo."
By this point, he was now clothed in a Le Labo bottle that he created with poster board, burnished cap included.
"Everywhere I go downtown or in Brooklyn it burns in my nose / It's such a trigger for every ex-boyfriend and girl that we know."
The ditty is a statement about how the cult fragrance has pervaded New York (I wrote a post on the same topic last year). "I love Santal. I wore it when it first came out, but now it's on people everywhere," says Mur, who lives in Chinatown. "I was having a conversation about it with [fashion designer] Susan Alexandra one day, and we had both dated men who wore it. We'd be in any random place in Soho, or on the L train and we'd smell it, then freeze. Is he here? It truly is a trigger."
The video (ahem) triggered interest. Justin Vivian Bond reached out, then Alan Cumming, both of whom invited him to perform with them.
"Other artists came out of the woodwork and began supporting and following my work as well," says Mur. "Lena Dunham, Mari Andrew, and (my personal favorite) Cindy Sherman. All because of that video. Someone said your video has 55,000 views on Twitter, and I'm like, 'I'm not even on Twitter.'"
Mur began studying piano at the ripe age of 4. He was also classically trained as a boy soprano and performed as a soloist with the Hartford Symphony Orchestra and Connecticut Opera. He studied at Interlochen Arts Academy in Michigan, but shifted his focus in college.
"I'd studied music my entire life," says Mur, who is 34 and bears a slight resemblance to a young, pre-mustached Freddy Mercury.  "I knew that studying visual arts would enhance my music."
On Mur's feed, you'll find him performing micro-musicals dressed as Parker Posey or Greta Thunberg. Offline, he's created more extensive works, including a requiem for his dissolved relationship with his ex-husband, and five musicals, including one based on the Steve Martin book (and film) Shop Girl. The next is Trees, which previewed on Monday and opens in early April. It's inspired by his work at the Wild Bird Fund on the Upper West Side, where he's painted thousands of bird portraits.
"It's New York's only refuge for Manhattan wildlife," he explains. "Since it's New York, they mostly rehabilitate pigeons, but thousands of different birds migrate through every year."
So, why not Birds, the Musical?
"Because what's bigger than the birds? The trees! And with all that's going on in our world — global warming, factory farming, the general mistreatment of our planet and the selfishness of man and over-consumerism — this is what I want to and need to write about now."
And how did Le Labo feel back in May when he wrote about their most famous offspring?
"You just want to be friends with this guy," says co-founder Fabrice Penot, who calls the video "brilliant." He added: "From Le Labo's perspective, it's the price to pay for having created the scent of a generation. It's interesting to see how the underground crowd, after once having used Santal to feed their coolness, now hate the fact that it is no longer theirs only, so now it's cool to denying it."
Mur, however, has found a new scent closer to home — or, rather, to him.
"Honestly, I've always loved the smell of my body odor and others' as well. I want to know what your pheromones are like and whether we're going to click," he says. "Body odor alone kind of weeds out who we're attracted to."