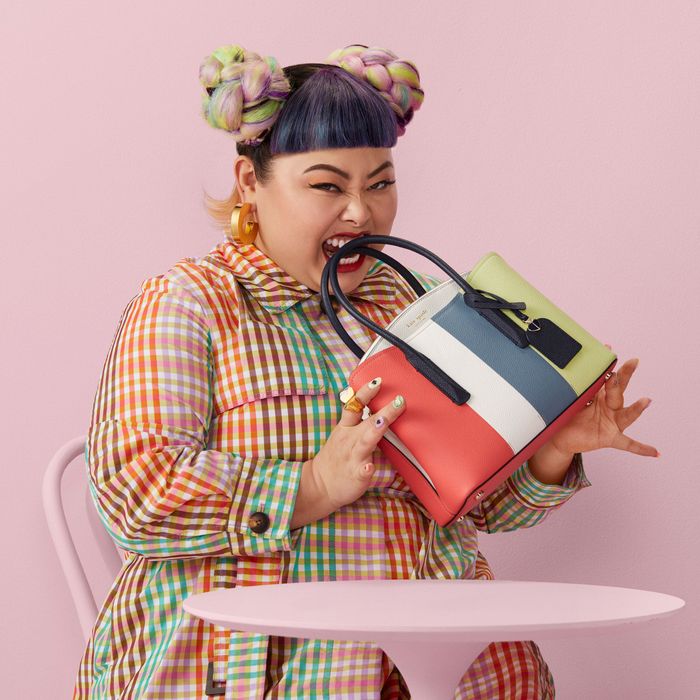 Photo: Courtesy of Kate Spade
Fashion campaigns can be a lot of things — among them pretty, inspiring, or boring — but they're rarely funny. Kate Spade's Spring 2020 campaign, starring Japanese comedian Naomi Watanabe, is actually pretty funny and enjoyable. The absurdist premise, underscored by the candy colors the brand is known for, made me watch it multiple times (not just for my job).
If you're unfamiliar, Watanabe is known for her celebrity impressions and has more Instagram followers than anyone else in Japan. Her appearance in the Kate Spade ad is why more campaigns should cast comedians. Cast them, cowards! It's fun! At the open of the first ad, Watanabe is dwarfed by the giant, striped Margaux satchel. Watanabe dances in front of the bag, grinds on the bag, and rides the tag of the bag like a bull before her human-sized version picks it up and swings it around. Dressed in a pink, orange, and green gingham dress and wearing her rainbow-colored hair in space buns, Watanabe sets the tone for the new season — lighthearted, fun, and, of course, stylish. See the clip below.