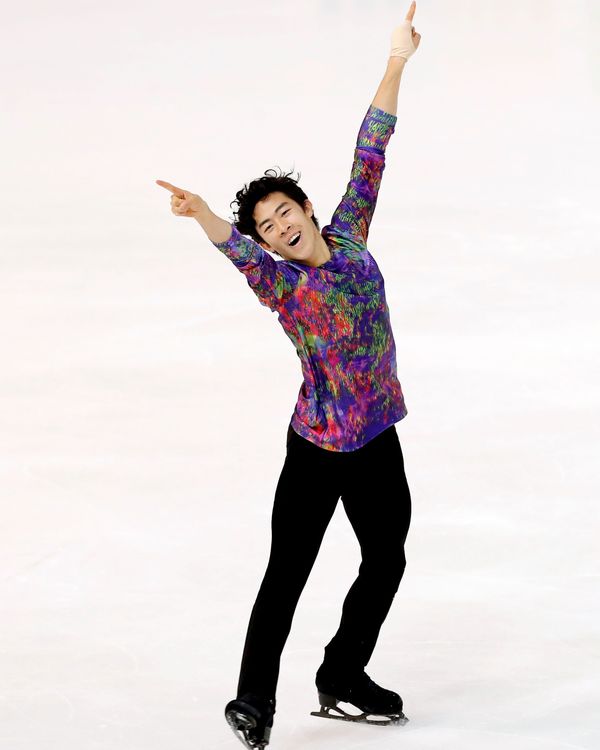 Nathan Chen.
Photo: SEBASTIEN NOGIER/EPA-EFE/Shutterstock
Remember Nathan Chen? You probably know him from the 2018 Winter Olympics in Pyeongchang, where he was hyped as America's figure-skating wunderkind. At age 18, Chen was planning to attempt an unprecedented five quadruple jumps in a single program, a feat that could cement his status as the most technically advanced skater the world had ever seen.
Now, Chen is 20 and a sophomore at Yale, where he gets around campus on an electric skateboard. On the figure skating front, he seems better than ever: Since the Olympics, he's been undefeated, including two consecutive world championships. And, on Sunday night, he won his fourth consecutive U.S. championship — making him the first man to win four straight national titles since Brian Boitano in 1988.
As you may recall, back in 2018, Chen's Olympic debut got off to a rough start with a few devastating falls, and he was in 17th place after the short program. But he pulled through with a historic free skate in which he landed six quads — one more than he had initially planned on, two more than anyone else in the competition, and an Olympic record — earning him a fifth place finish overall.
A quadruple jump — also known as a "quad" — means that a skater rotates four times in the air. As you'd expect, they're extremely difficult; only a handful of skaters in the world can land quads consistently, and even then, many struggle to do more than one or two in a four-and-a-half-minute program. A quad is also worth more than twice as many points as a triple jump, meaning that landing five, never mind six, makes you practically unbeatable.
Compared to flashier skaters like Adam Rippon or Johnny Weir, Chen has an understated elegance. He "genuinely dislikes sequins," opting for minimalist costumes designed by Vera Wang, and, having taken years of ballet as a kid, is very smooth and graceful on the ice. According to Boitano, the 1988 Olympic champion, Chen is "very quiet." There are also a number of extremely cute videos on the internet of him skating as a child. And he looks so happy when he's skating!
Because I am from a family of figure skaters, I watched Nathan Chen compete in the Grand Prix Finals last month, and I have to say, it was one of my more pleasurable TV-watching experiences in recent memory.
It wasn't clear going into the competition that Chen would win. My mom, who is the most knowledgeable person about competitive figure skating that I know personally, predicted that Yuruzu Hanyu — the two-time Olympic gold medalist, Winnie the Pooh enthusiast, and one of Japan's most beloved athletes — would beat him. As it turned out, Hanyu skated very well, landing five quads, but, as NBC put it, "ran out of gas" toward the end of his program, accidentally doing a single axel where he should have done a triple.
But Nathan Chen — Nathan Chen was exquisite. Skating to Elton John's "Rocket Man," he flew across the ice, calm and confident, landing quad after quad, making it all look effortless. His performance was exhilarating to watch, and I was high off the thrill of it for the rest of the night. Afterward, I went to see A Beautiful Day in the Neighborhood, a movie which stars Tom Hanks as Mister Rogers, and which made both my mom and my husband cry, but honestly — watching Nathan Chen was better. (See below.)
In the end, he finished more than 40 points ahead of Hanyu, with a total of 335.30 points, the highest score in figure-skating history.
And he did it all again this weekend in Greensboro, North Carolina. Despite having had the flu earlier this month, Chen was nearly flawless, landing two quads in the short program and four in the free skate, and winning by a margin of 37 points. Fellow American Jason Brown, of "Riverdance" program fame, also skated very beautifully, and finished second.
Next up is the World Figure Skating Championships in March, when Chen will face off against Hanyu once again.