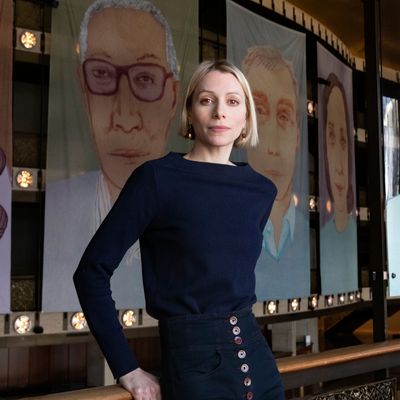 The world-renowned New York City Ballet never fails to put on breathtaking displays, but the exact amount of work it takes to put on each show often goes unnoticed. That massive behind-the-scenes effort is what drew Lauren Redniss to a project of equally large proportion: crafting portraits of as many of these backstage workers as she could. In a collaboration with the New York City Ballet's Art Series, the resulting exhibition, "A Gathering," features more than 100 portraits of ballet workers, from ushers to costume minders to archivists, all of whom she personally spoke with.
Redniss set out to shine a spotlight on these unseen yet integral workers. "This installation was meant to bring the back of the house to the front of the house, to recognize the creativity and labor of these people whose work, in general, is pretty hidden and easy to overlook. I wanted to acknowledge all of these people who are all so critical to the work of this storied institution."
While some might see indecisiveness as a vice, Redniss's refusal to choose a storytelling form is what made her installation stand out. "I guess I'm just greedy. I feel like, why should I have to choose between words and images, because I have both? They both take a role and can play, and why not?" Marrying her background as an accomplished author of several visual non-fiction books with her foundation in drawing, Redniss brings in each portrait subject's life story or NYCB contributions in text that can be seen throughout the exhibition.
Below, a selection of featured work, with insight from Redniss into each subject's story.
"Head of security Clem Mitcham studied fingerprinting at Scotland Yard before immigrating to the United States in 1970. Three of his sons also work backstage, including David Mitcham, who returned to the theater after serving in the Kuwait and Saudi Arabia as Marine reconnaissance scout."
"Andres Mazuera is a performance porter. He told me about bringing flowers on stage to a ballerina who had just performed, looking out past the footlights into the audience, and feeling 'the heat of everyone's eyes.'"
"Norma Attride is part of the wardrobe crew maintaining the costumes. She has to maintain the life of the costume, whether its changing elastics, or threading the costume if someone had just worn it and someone else needs to wear it for the evening. She talked to me about intimate moments with dancers, of getting them dressed when they're out in the wings for a quick change, just these kind of wearable art objects that she maintained. She also told me it's a lot of Woolite!"
"Celly Diaz (on far left) who runs the box office mailroom, is the third generation in her family to work at New York City Ballet. Her father and grandfather worked as porters. She told me that her father brought her to the theater early one winter morning when she was about 8 or 9, and that, when she walks into the theater now, she is transported back in time: 'It's the same smell. The wood, the velvet. It takes me back.'"
"A Gathering" is on view at NYCB's home at Lincoln Center through the winter season, ending March 1.