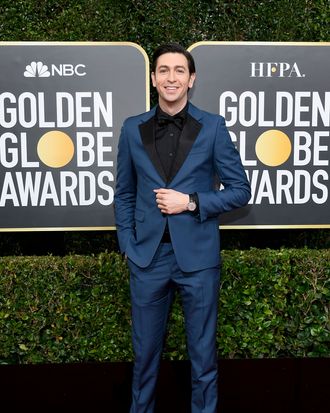 Cousin Greg in a dapper blue suit and Omega watch.
Photo: KEVORK DJANSEZIAN/NBCU Photo Bank via Getty Images
Cousin Greg arrived at the Golden Globes this evening in a perfectly tailored navy suit that brought out the bright blue of his eyes, hair parted down the side, and a smolder that could melt steel beams:
I'm sorry, but — where is the gangly, ketchup-stained weirdo from Succession? Where are his bad haircut and ill-fitting pants? Who is this impossibly tall and extremely well-tailored — dare I say it — Daddy Greg? To be fair, actor Nicholas Braun has held his own on a few red carpets, but in the past he's stuck with the same tuxedo shirt and bow tie he might wear at a Roy family function. This look, on the other hand, is uncharacteristically suave and extremely sexy.
I never thought I'd say this, but I'm hot for Cousin Greg. And I'm not alone. Various other shocked viewers have expressed their surprise and delight over his transformation:
Still, vestiges of the dorky Cousin Greg we know and love are clear; one clip shows him gazing seriously at the camera, after which he giggles and gives a thumbs up. He also spent one of his red-carpet interviews asking the hosts how they met, and tried to get the Succession crew to do a little dance before they went up onstage to accept their Golden Globe for Best Television Series — Drama. And, in true Cousin Greg fashion, he took his opportunity with the Globe cam to throw an invisible Poké Ball:
All I'll say is that Adam Driver has some competition. Can we get a fan cam on Cousin Greg for the rest of the evening?