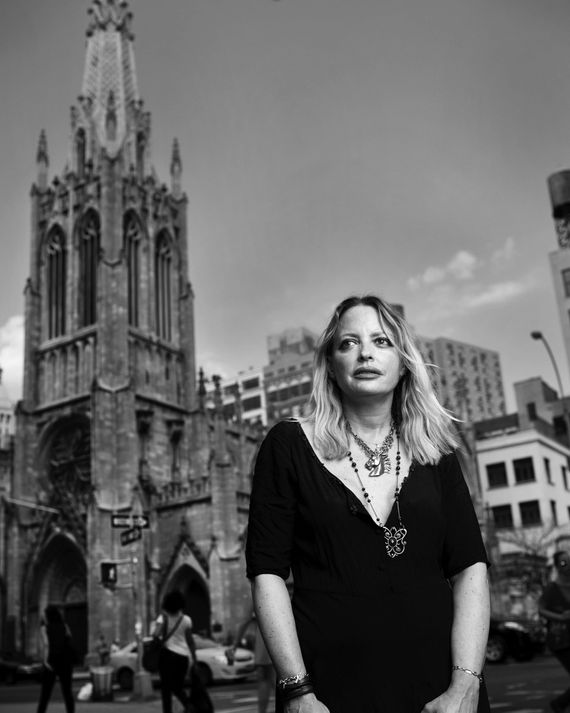 Elizabeth Wurtzel.
Photo: Dan Callister/Shutterstock
"You can't be at your own funeral," Elizabeth Wurtzel told a crowd of more than 1,000 people at the University of Wisconsin in 2004, when she was promoting Now, More, Again: A Memoir of Addiction. "It doesn't really work out." She was talking about how depressed people are given to fantasizing that people will miss them when they're gone. To judge by the outpouring of obituaries and social-media remembrances over the past day and a half, Wurtzel may have been the rare depressed person whose delusion was prophetic. "Elizabeth would want this exactly," her husband, Jim Freed, says. "She was always an attention queen, the more outrageous the better. I feel if I don't answer one call from a reporter, I'll rot in hell."
Much of the coverage of Wurtzel's death has focused on the importance of her 1994 memoir, Prozac Nation, which helped launch the confessional-memoir boom. But in New York media circles, for three decades, Wurtzel was a fixture by turns beguiling and exhausting, her talent and troubles congenitally bound to one another. She cycled, proudly, through jobs and agents and editors and publishers. She could treat people badly. She'd blow deadlines and be rude and endlessly dramatic. More compassionate friends chalked it up, most of the time, to mental illness and drug addiction or understood it to be the collateral damage of her life force.
After the success of Prozac Nation, Wurtzel became a persona: a party girl, a generational spokeswoman, a drug addict, an intellectual, and a famously "difficult" person. She was proud of that, too, considering it an act of feminism. The novelist Walter Kirn first encountered Wurtzel through his jabby review for New York Magazine of Prozac Nation, which he allowed had "moments of shapely storytelling" but was "almost unbearable" and "a work of singular self-absorption." Later, they became friends. "She had a tiny nuclear reactor where the rest of us have a breastbone," Kirn says.
At Harvard, Wurtzel was already cultivating her dual role of author and character. Michael Hirschorn, who edited her at the Crimson, recalls publishing an article in which she wrote, "LET'S FACE IT: Lou Reed should be dead." It "was full-throttle Wurtzel," Hirschorn says, "her first piece containing 100 percent nuclear-grade Wurtzelism in concentrated form. It argued something like, 'If Lou Reed really wanted credibility, he'd die.'" For that piece, Wurtzel won the prestigious Rolling Stone College Journalism Award. "It was incredibly annoying," recalls Richard Bradley, now an editor-at-large at Worth, who also won the award that year for a long feature on how AIDS had infiltrated New Haven. "Elizabeth won for a review of a Lou Reed album that probably took 20 minutes to write, because she was clever that way."
She later informed her Harvard friends David Samuels and Nathaniel Wice that she'd come to a decision that she was going to lose her virginity to Bradley (at the time named Richard Blow). One of the friends asked, "Do you want us to throw a party?" "Of course, she lit up," Wice recalls, "and said, 'Yes.'"
She then told seemingly everyone she knew that she'd visited Bradley in Washington and done the deed. Wice and Samuels sent out an invitation, with a hand-drawn flower, inviting guests to a "seminal and groundbreaking PARTY" in her honor. ("Elizabeth told so many people about this at the time that it would be foolish of me to deny it, not that I'd want to," Bradley says. "But personally it's not the kind of thing I'd talk about the way she did.")
Her first years out of college only cemented her polarizing reputation. She was extraordinarily successful for someone so young, landing an internship at the Dallas Morning News and jobs at New York and The New Yorker as a pop-music critic. But she also abruptly lost many of those gigs and was fired by the Dallas paper for making up quotes.
In the moment of fame that followed Prozac Nation, she became the literary world's favorite person to love to hate. For Bitch, which was published in 1998, she posed on the cover topless, giving the world the finger. The novelist Bret Easton Ellis, who knew her socially in the '90s, says, "There were a lot of problems and pain and confusion which drove her, and she could be incredibly distracting to be around. She was not necessarily easy, but I liked that about her, that she was combative and super-passionate, and she knew a lot of stuff."
Her writing was of a piece with the controversy it provoked, as if ultimately that might be its point. When, after the suicide of David Foster Wallace in 2008, Wurtzel wrote in New York Magazine about her relationship with him, carping resulted that she was self-absorbed. When 9/11 happened, she wrote controversially about what her friend and editor Maer Roshan recalls as "terror sex … what Elizabeth noticed, which happened to be true, was there was an explosion of people hooking up, which was understandable in the context of fear and wanting connection, but it was not taken well. 'There's Elizabeth wanting to make even this about herself.'" But Wurtzel always found a way to weaponize criticism. When the paperback edition of Bitch came out, the usual front-of-book snippets from flattering reviews were larded with quotes from pans as well.
In 2011, Walter Kirn was taking part in the "Happy Endings" reading series at Joe's Pub at the Public Theater. He was the last of a few writers to take the stage. He was given 15 minutes to read and had been asked to do some kind of stunt afterward. For this, he'd arranged with Wurtzel to read from his evisceration of Prozac Nation. (In the years since he wrote it, he says he'd seen the error of his ways in ever having "underestimated Elizabeth Wurtzel.") Wurtzel delightedly began reading the most vicious lines from the review, then started veering off on tangents. The theater needed to reset the space for another performance, but as the event organizer gestured for Wurtzel to wrap it up, "Liz being Liz, living on limelight like a bee lives on pollen, she couldn't give up the shtick, the performance," Kirn says. "She couldn't stop. We were literally called offstage. The Oscars are nothing compared to this. I've never been asked back."
In the last 15 years of her life, Wurtzel's relationship to literary and media New York was part time. She went to Yale Law School and then to work for power lawyer David Boies. Still, she continued to write. At the dog run, she'd constantly peck notes into her phone, drafts of pieces or ideas for them.
Her service dogs, first Augusta and then Alistair, became her constant companions. "She was kind but not sentimental," the writer Amanda Fortini recalls. "She wasn't going to say 'I love you,' but she was interested in you and cared and would show more through her actions. She triangulated through her dogs." Once, Fortini was having coffee with her in Soho — Wurtzel cultivated friendships with a lot of writers — and Wurtzel addressed her dog: "Augusta, maybe Amanda would like to come and spend the afternoon with us." Upstairs in Wurtzel's loft, she showed Fortini love letters from David Foster Wallace and an indie rocker Fortini declines to name.
New York's David Wallace-Wells worked on her 2013 piece, her re–coming out, "Elizabeth Wurtzel Confronts Her One-Night Stand of a Life." It was the most intense editing experience he's had. "Within days of first emailing each other, it was texts at all hours about all subjects, totally off topic. In other words, she was more or less exactly how you'd expect her to be from reading her — unapologetically excessive in all ways. She invited herself to my wife's gallery, then to our dinner with friends, and on from there. It was overwhelming, and I don't think I was alone in burning out on her — my sense is that she became almost too much for everyone in her life at some point," he says. "Over time, I slowly stopped responding to her, which I now feel intensely guilty about — for having not reciprocated what was essentially a very human, empathic, even loving set of impulses and gestures toward me. The piece we worked on together was, in a certain way, about exactly this: how so many of us wall ourselves off from each other and establish conventional boundaries, how unhealthy and foolish that is, and how much more romantic it is to insist on more from each other. But it's a lot to deal with from someone who is not a close friend, and even though I admire the way she lived intensely, I just couldn't keep up."
In the spring of 2015, the defiantly noncommittal Wurtzel got married. The same year, she was diagnosed with cancer. Nearly every year, for the past 14, Wurtzel would travel to New Haven to talk about Prozac Nation to a memoir class taught by the writer Anne Fadiman. She'd come with her service dog, lately the rescue Alistair, whom she refused to leash. Invariably, she'd give out her cell-phone number and email address to the students. The one year she had to miss the class, because of a leg injury, she Skyped in and wheeled around her apartment on a knee scooter, showing the students. After her double mastectomy, she still came to the class, this time with the drains still in.
She also continued to write for New York, where she cycled through more editors until they, too, felt the need to withdraw from communication. She pitched a piece about getting divorced while fighting cancer. She wrote a feature on learning that her father was a man other than the one she'd grown up believing was her dad.
A week and a half before Wurtzel died, her friend Alia Raza, who originally met her on Twitter, visited her in her hospital room. They talked about the MoMA and Hawaii and the new Beck album, which Wurtzel insisted she listen to. They laughed about another friend who had visited and obnoxiously complained about having "a sympathy headache."
Wurtzel "never once talked about dying," Raza says, "or gave an indication that she knew the days were numbered." Raza went with her once to Philadelphia to see her oncologist. She'd been told she couldn't get test results over the phone. "There was terror in her eyes the whole train ride, but she wouldn't say it. This wasn't someone who was resigned to having cancer. I think she expected to live another ten years."
The end came suddenly. After surgery to remove a brain tumor, she was discharged to her mother's home to recover for what was expected to be a few days. Then the plan was to start radiation. "She made a joke about the staples on her head being like a sci-fi headband," Raza remembers. But after just one night at her mother's, she returned to the hospital, where she was told the cancer had spread to her cerebral fluid. Within 24 hours of being readmitted, a week or so ago, she was unconscious. She never woke up again.
Her husband, Jim, though they were separated, was at the hospital every day. Once when it had been raining, he started to turn around as he approached the hospital, thinking he couldn't bring a sopping-wet dog into the cancer wing of a hospital. Then he asked himself, "What would Elizabeth do?," and he turned around and marched up to her room with the dog.