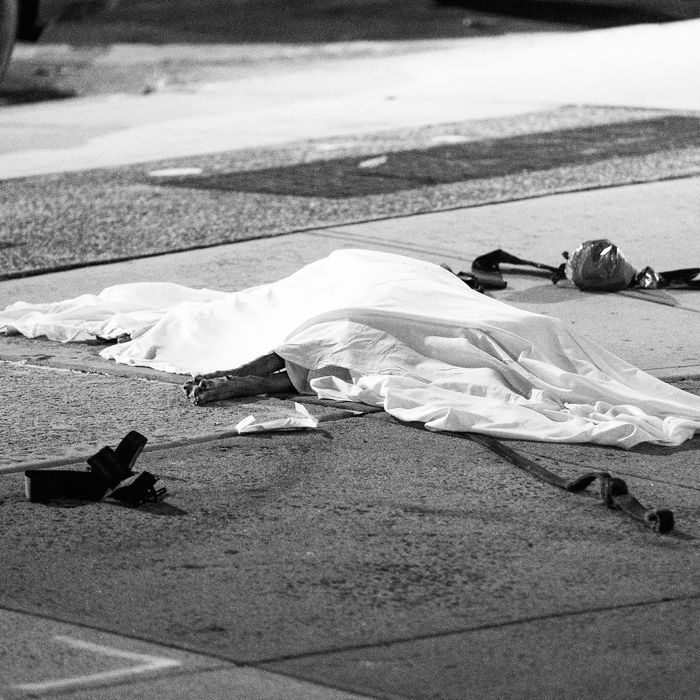 A Secret Service agent shot and killed a dog in Windsor Park, Brooklyn.
Photo: Gardiner Anderson/NY Daily News via Getty Images
What should've been a typical dog walk took a tragic turn last night when an off-duty Secret Service agent shot and killed a dog that was out for a walk with its owner.
According to the New York Daily News, a man and his girlfriend were walking his female Belgian shepherd in the Brooklyn neighborhood of Windsor Terrace around 9:45 p.m., when an off-duty agent came around the corner and fired one fatal shot at the dog.
"She scared a cop who was walking home," said the owner, who was reportedly visibly upset and covering his eyes, while speaking to the Daily News. "He shot her and she's dead."
There have been conflicting accounts of the circumstances that led to the incident — in particular, whether the dog was leashed. In a statement on Monday night, the Secret Service — which is currently conducting an investigation into the incident — claimed that the dog hadn't been leashed. "The dog charged him," Sergeant Mary O'Donnell told the New York Times. However, in a photograph of the scene that ran in the Daily News, a leash can be seen under the white sheet used to cover the dog's corpse. When presented with this photo, the Secret Service declined to comment; a law enforcement official, meanwhile, told the Times that the owner wasn't holding the leash.
The story has has been met with widespread outrage on social media, with many decrying what they see as an unnecessary and excessive use of force.
"This is so messed up," MSNBC host Chris Hayes tweeted, while New York City councilmember Brad Lander drew attention to the conflicting statements about the leash, tweeting, "Violence & lying are becoming so disastrously casual."