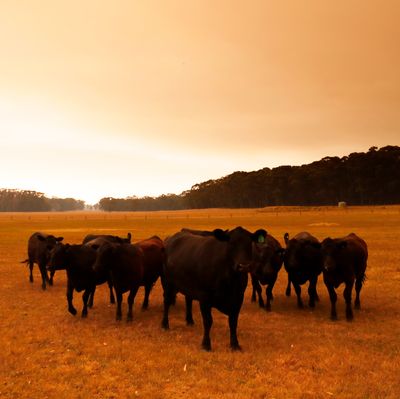 Photo: Darrian Traynor/Getty Images
The disastrous, climate-change-fueled wildfires that have raged across Australia since September continue to wreak havoc and destruction. Thousands of people have evacuated their homes, and NPR reported on Sunday that "many are stuck behind fire lines, trapped without power or cell service." As many as 25 people have lost their lives. Last week it was reported that nearly half a billion animals are feared dead in the blaze. On Monday, HuffPost reported that number has climbed to a billion.
Chris Dickman, an ecologist at the University of Sydney, explained to HuffPost that the estimate of 480 million animal deaths previously reported was conservative, only applied to the state of New South Wales, and excluded populations about which less data has been collected. "The original figure … was based on mammals, birds, and reptiles for which we do have densities, and that figure is now a bit out of date. It's over 800 million given the extent of the fires now — in New South Wales alone."
Dickman added that if one were to factor in bats, frogs, and invertebrates as well, the number of deaths would "without any doubt at all" exceed 1 billion. This figure was confirmed by another scientist, Stuart Blanch of the World Wildlife Fund Australia, who told HuffPost that an animal death toll estimate of 1 billion is likely also low.
Some threatened and endangered species face total extinction as a result of the wildfires — like the corroboree frog, the mountain pygmy-possum, and the glossy black cockatoo. Since the fires began, flying foxes have reportedly been admitted to animal hospital at colossally high rates, and koalas have lost more than 30 percent of their habitat in New South Wales, according to federal environment minister Sussan Ley.
Officials warned on Monday that the fires, which have resisted containment since the fall, will only get worse, with some of them joining together into a "mega blaze" before the week's end.