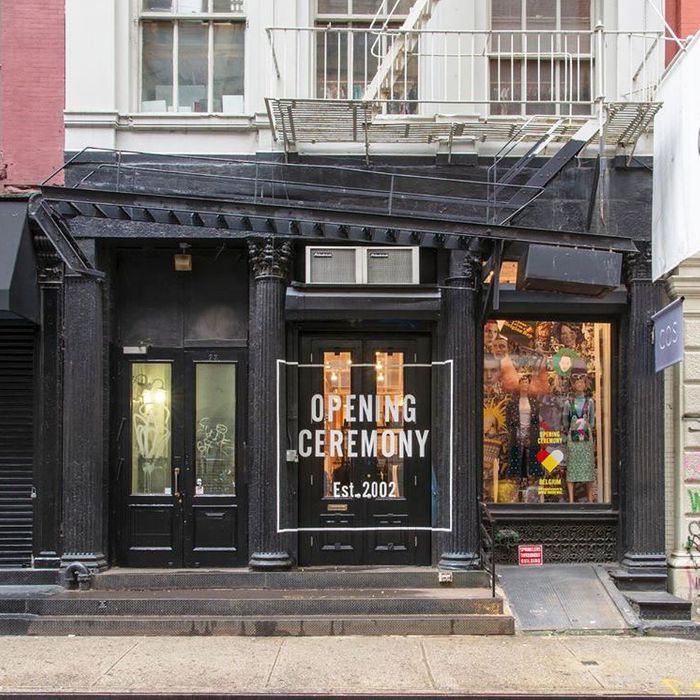 Photo: @openingceremony/Instagram
Since 2002, Opening Ceremony has been providing Soho with a retail experience dedicated to emerging designers and cool brands. Store owners Humberto Leon and Carol Lim stock their own Opening Ceremony collection alongside clothes by the likes of Raf Simons and Telfar Clemens, Adidas and the North Face. Even the staircase, printed with the lyrics to "Hello, I Love You" by the Doors, has become iconic. But today, Opening Ceremony announced that it's closing all of its locations sometime in 2020.
The news comes just one day after the New Guards Group, which is owned by Farfetch, announced that it had acquired the brand, adding it to a roster that includes streetwear brands Off-White and Palm Angels. In two Instagram posts, Opening Ceremony celebrated how much has changed since 2002. "Ultimately, in this time of immense change in the way that people shop, we still believe in the power of passionate and unique retail," the caption read. "But we also believe in the necessity for change, reflection and an opportunity to refresh."
Opening Ceremony occupied a unique space in New York's retail landscape. Despite the high-end products, it felt like a store you could hang out in, as opposed to Bergdorf Goodman's, Bloomingdale's, or even Barneys, the hippest of the department stores. Chloë Sevigny told New York in 2010 that Opening Ceremony was "like your favorite indie record store, but a clothing store."
The brand's second Instagram post does leave the door wide open for another retail opportunity in the future. "We are stepping back from multi-brand retail, for a moment, so we can come back with an experience that is just as inspiring, filled with love and relevant for the years ahead as Opening Ceremony has been," the caption read. So, there's hope! But for now, it's hard to see it as anything but another example of how retail is dying.