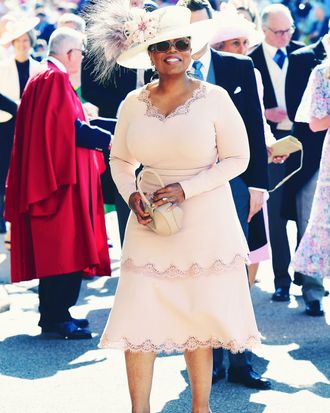 Oprah
Photo: Ian West - WPA Pool/Getty Images
In the weeks since Meghan Markle and Prince Harry announced their decision to step back from their official duties as royals, everyone under the sun has felt compelled to voice their thoughts. So far, we've heard from Cressida Bonas, Prince Harry's ex (though she would no longer like to be solely defined by that relationship), and also '90s rom-com heartthrob Hugh Grant. And finally, after a deafening silence, Oprah has come forward to publicly weigh in.
In a recent interview with TMZ, Oprah, who attended Meghan and Harry's wedding in 2018, said she fully supports the couple: a whole "1,000 percent."
Oprah went on to explain why she supports Harry and Meghan, noting that "Even in the queen's statement, [she] says, 'This has been going on for months.' These discussions have been going on for months." She then applauded Harry's bravery to "give up everything [he's] known [his] whole life" in pursuit of "the truest vision for [himself]."
Gayle King, who was with Oprah when TMZ approached her in New York City earlier this week, took the opportunity to chime in herself, also citing the royal matriarch's response: "Even the queen's own statement said these conversations have been going on for months."
Okay, sure — they're certainly entitled to their belief that Harry, Meghan, and the queen were having understanding conversations about a potential exit long before the couple made its big announcement, and that the queen was not furious over it at all. But would they still believe this if they knew the queen apparently — during a moment of extreme pettiness — considered downgrading Meghan to a lowly countess and Harry to something called an Earl of Dumbarton???