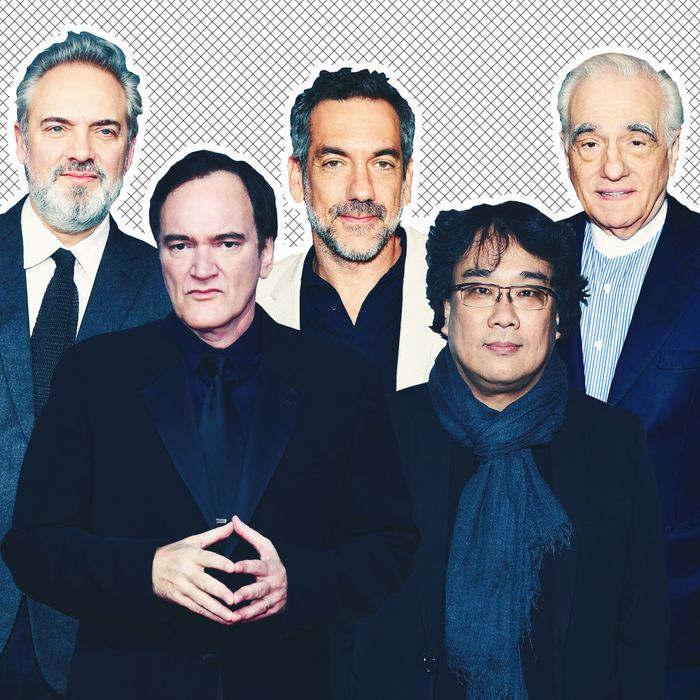 The 92nd Academy Awards, announced this morning, were led by the usual slate of male directors and their movies. Todd Phillips (The Hangover guy) led with 11 nominations for Joker, followed by Quentin Tarantino's Once Upon a Time in Hollywood, Martin Scorsese's The Irishman, and Sam Mendes's 1917, which tied with ten nominations each.
"Congratulations to those men," actress Issa Rae deadpanned upon announcing the all-male Best Director list. Like the other major awards of this season — the SAG Awards, BAFTAs, and Golden Globes — this year's Oscar nominations dismissed women directors and their work almost entirely.
This is less surprising than it is disappointing, given that 2019 was a milestone year for women in film. Not only were there more women-made movies in 2019 than ever before, many of them were critically acclaimed and made a ton of money, with a dozen of the top-grossing 100 movies of 2019 directed by women. (These numbers might seem small, but they're evidence of the first substantial gender shift in directing trends in over a decade.)
You wouldn't know this, though, by looking at who's getting the awards. In addition to the majority of nominations going to men, this year's Best Director slate was entirely male. Greta Gerwig, who directed Little Women, was the most notable snub in the category.
"It's incredibly upsetting," Florence Pugh, who starred in the film and got a Best Supporting Actress nod, told EW on Monday. "[Gerwig] literally made a film about this," she continued, "about women working and their relationship with money and their relationship with working in a man's world … So [this] only underlines how important it is — because it's happening." Despite the glaring omission, Gerwig issued a statement Monday afternoon thanking the Academy for its six nominations in various other categories, including Best Adapted Screenplay.
Outside of the documentary category, which fared comparatively well, women-directed films were either entirely overlooked as contenders or snubbed by voters. In a crop of contending films that included critical darlings like Céline Sciamma's Portrait of a Lady on Fire, Chinonye Chukwu's Clemency, Olivia Wilde's Booksmart, Melina Matsoukas's Queen & Slim — and many more — only three women-directed productions received any nominations: Little Women, Marielle Heller's A Beautiful Day in the Neighborhood for Best Supporting Actor Tom Hanks, and Harriet for Best Actress (Cynthia Erivo) and Original Song.
Notably, Hustlers, Lorene Scafaria's celebrated summer hit, exited the race with zero nominations (Jennifer Lopez — who was thought to be a shoo-in for Supporting Actress — was the most surprising snub). Lulu Wang's The Farewell also came out with zero nominations, in spite of Awkwafina's recent Golden Globe win for Best Actress in the film.
In its 92 years, the awards body has only nominated five female directors and awarded one, Kathryn Bigelow, with its Best Director honor. And at this rate, it looks like it might be going for a century-long streak of snubbing women and their work.