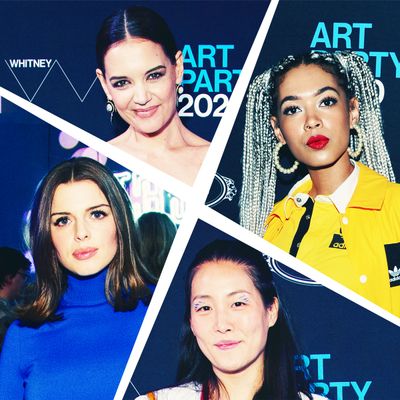 Every year at the Whitney Museum, young art aficionados come for the annual Art Party. It's a fundraiser for the Whitney's education programs, yes, but also gives people the chance to roam around the galleries in their finest feathered dresses and large hats. Julia Fox of Uncut Gems fame joined actress Leyna Bloom, Olivia Palermo, and more at the semi-raucous event — semi-raucous because the first floor is more of a party, with a DJ, but the real event is in the galleries.
Before the Art Party is the Art Party dinner, which was co-chaired by Kristen Cole of Forty Five Ten as well as artists Maia Ruth Lee and Liza Lou. Singer Zsela performed at the dinner in a white lace dress that was a little Bride of Frankenstein, a little Christina Aguilera. But arguably, Lou's piece Kitchen was the star of the night. The full-scale kitchen — featured in the Whitney's current exhibition on craft — is covered with 30 million glass beads, from the Frosted Flakes box to the dust bin with cute little dust bunnies to the cherry pie coming out of the beaded oven. It was a big draw for anyone attending the party. Not only is it a good photo opp, it's also a good opportunity to ponder what it takes to spend hours and hours beading a full-scale kitchen.
Lou started the piece when she was 20 and completed it over the course of five years. That was 25 years ago, so this felt like a bit of a homecoming for her. She had initially thought it would take a couple of months. "If you wanted to make something overwhelming, you had to drag yourself through the entire process to make a point. Especially with a material that's not considered an art material, I had to take it all the way. Otherwise, it was seen as decorative." Lou's kitchen was certainly the most intricate, sparkly thing at the Whitney last night, but some of the outfits came close in terms of embellishments per square inch. See some of the best looks from last night, and feel free to use them as inspiration for any upcoming gallery openings, weddings, or fashion shows you may be attending.