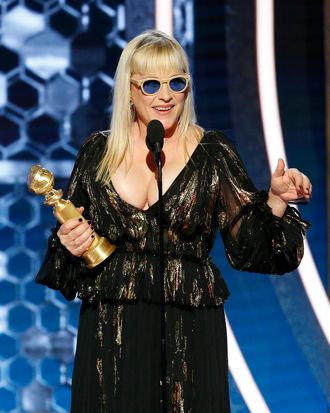 Photo: Handout/2020 NBCUniversal Media, LLC via
Lots of people who were at the Golden Globes made sure to mention that they are aware of the catastrophe that is climate change, the fires currently devastating Australia as a direct result, and the general worldwide conflict that characterizes this moment in history.
Among this gang of Hollywood soothsayers — which includes host Ricky Gervais criticizing movie studios and Joaquin Phoenix soliloquizing about "rocking the boat" — was Patricia Arquette, whose acceptance speech seemed to be a cut above. In her speech she urged viewers to remember that we live in a country "on the brink of war" with Iran, where an awards show seems to matter for a night and will be like a dream upon waking.
"I'm so grateful to be here and celebrate this, but also I know tonight, January 5, 2020, we're not going to look back on this night in the history books. We will see a country on the brink of war, the United States of America. A president tweeting out a threat of 52 bombs, including cultural sites. Young people risking their lives traveling across the world. People not knowing if bombs are going to drop on their kids' heads. And the continent of Australia is on fire."
Arquette also urged viewers to vote, saying, "So while I love my kids so much, I beg of us all to give them a better world. For our kids and their kids we have to vote in 2020 and we have to get — beg and plead for everyone we know to vote in 2020. Thank you."